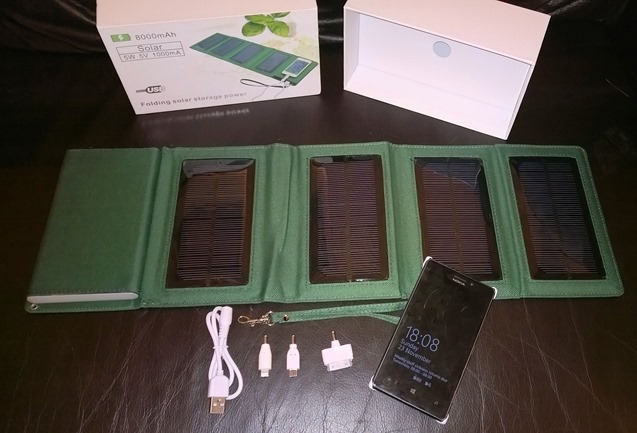 Battery Power is the constant bane of most smartphone users, and we have seen many creative solutions to the problem, including some pretty powerful power banks by Lumsing, which we have reviewed earlier and which will definitely get you through 4 or 5 days away from the power plugs.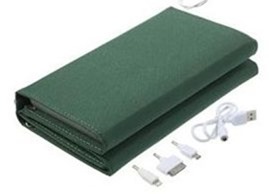 But what if you plan to be away for longer, for example going on a long camping trip? Brando has given us the opportunity to test out their solution, the 8000 mAh Folding Solar Storage Power unit.
The device features an 8000 mAh battery which can be charged via microUSB like most power banks, and should therefor be able to recharge your typical 2000 mAh smartphone 4 times.
The rugged package however has one unique feature – a large 4 cell solar panel which can provide 5 watts at 5v and 1000 mAh current, and which should therefore (in good conditions) be able to charge most smartphones without even calling on the battery reserve.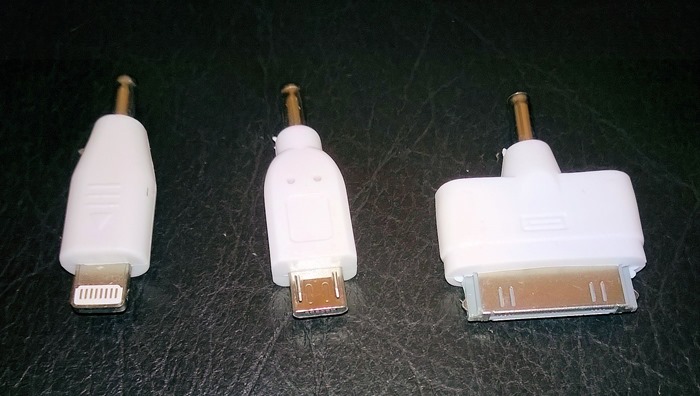 The device comes with 3 different type of plugs, allowing it to charge microUSB devices like Windows Phone and Android handsets, and also older and newer iPhones.
The box also includes a handy lanyard for carrying the charger and a USB to charging tip cable, which can be replaced with just a standard USB to microUSB cable if you want to dump the iPhone accessories.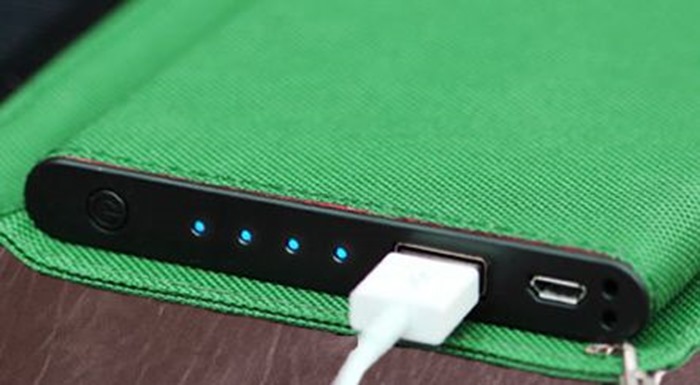 The front panel features the usual 4 LEDs showing charging level, and a button to activate those.  Users will note that the light start flashing as soon as the device is opened, as it starts to charge even from ambient light indoors.
The button and device however holds a further trick.  Press it twice and a powerful LED light on the other end of the device activates, flooding the area in strong light.
Another double click on the button turns it off again.
In testing the device out, it was able to charge in the weak winter light of the British winter by about 25% over a 7 hour day (before it became dark of course) which suggests to me in much better light one would be able to use the battery/ charger to keep your smartphone powered indefinitely.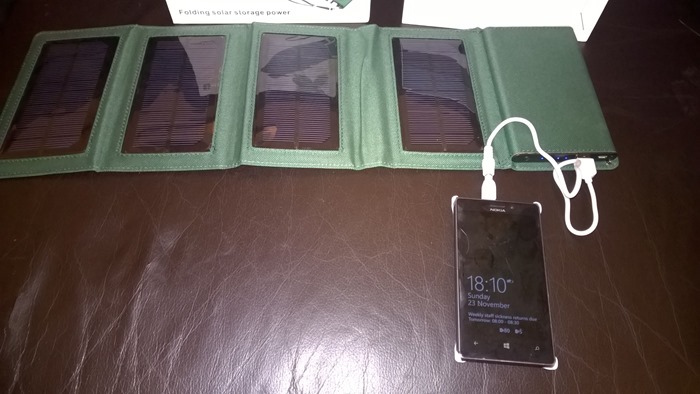 The device of course has its negative points. The package is pretty bulky and heavy when folded, weighting in at 490 grams (1 pound) and 39mm (1.5 inches) when folded. The battery is also not detachable from the solar cells for more portability if only the charger is needed, which is a negative if this is going to be your only power bank.
It is also not cheap, with Brando selling it for $74 and Amazon selling it for £56. For what it does however, which in sunny climes is give you almost complete independence from power plugs, it's very good value for money.
Find it at Brando here.