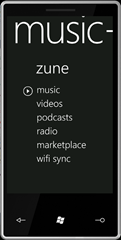 The above brief video from MIX10 shows the Zune media player in action.  The software appears to be a pretty full implementation of the ZuneHD client, but lacks the squirting music sharing feature that unfortunately never really caught on.
On interesting feature not demoed is that the Zune client will be able to synchronize media over WIFI, meaning in conjunction with cloud services and OTA updates a Windows Phone 7 devices may be one of those devices one will never have to plug into your PC at all.
Are our readers looking forward to this music experience on their phones? Let us know below.