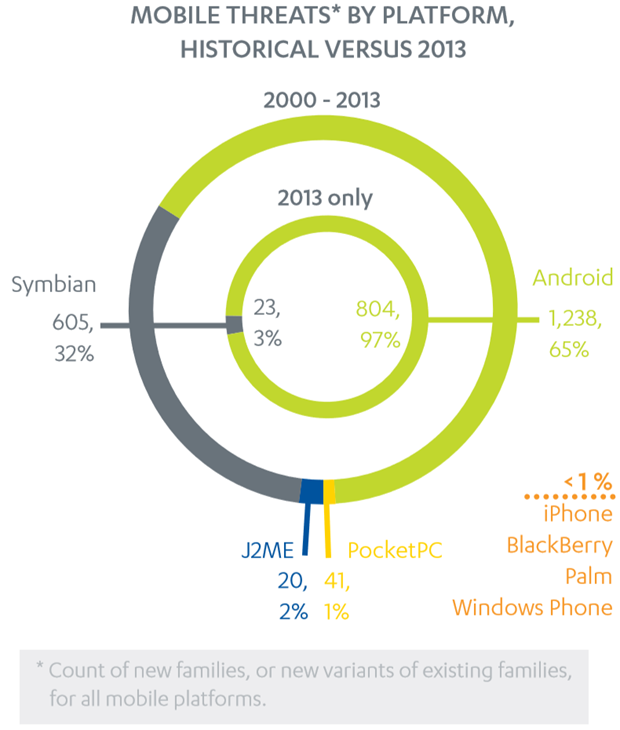 F-Secure in their regular Threat Report  report revealed that the load of mobile malware targeting Android has increased in 2013, from 79% in 2012 to 97% in 2013.
The percentage numbers hide the actual magnitude of the increase, with the malware rising from 238 threats in 2012 to 804 new families and variants in 2013.
The other 3% targeted Symbian, with 0% directed at iOS or Windows Phone.
Android threats are primarily a non-US problem — of the top 10 countries reporting Android malware detections to F-Secure's systems in the second half of 2013, 75 per cent of the reports originated from Saudi Arabia and India.
Third-party app stores are the most likely sources of mobile malware. Around 10% of samples from leading Chinese Android stores were identified as malicious, and up to 33.3% in some stores.
Google Play was relatively secure, with only 0.1% of software infected, but not available in many markets.
Nokia's X handsets of course also run Android and will be open to 3rd party markets, and will be targeting the exact same markets where malware is a major problem.
Of course China and India are both also markets where Microsoft is trying to make inroads with Windows Phone, and the message about the security concerns with the local Android app markets may be one that they should also be pushing there when explaining the benefits of their ecosystem and low-cost handsets.
Via TNW