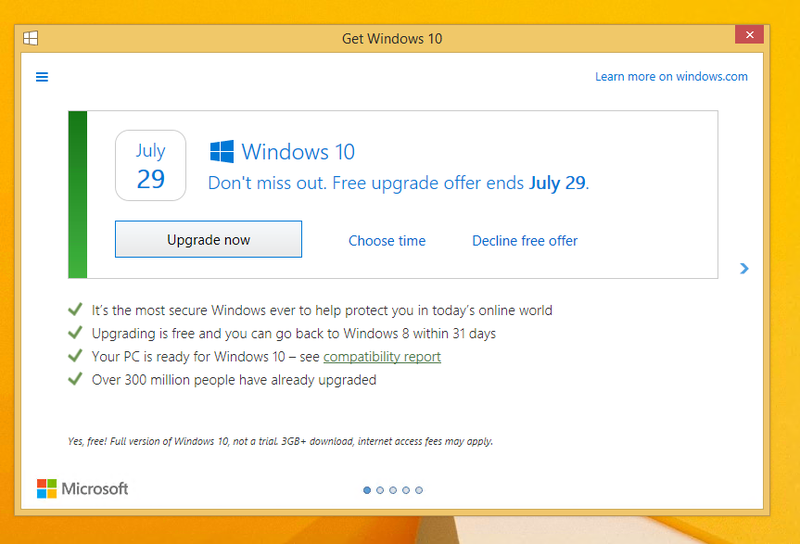 A group of Illinois residents are seeking Class Action status after filing suit against Microsoft for damages caused by their aggressive Windows 10 upgrade push which they say damaged their PCs and productivity, resulting in unplanned expense and lost time.
The complainants allege that Microsoft forced them to upgrade to Windows by delivering persistent pop-ups disguised as security updates that were hard to avoid and remove, even for computer savvy users, and offered no option to refuse the upgrade or to block future pop-ups.  In some cases users complained that the update was installed completely without their approval, and after the install users were unable to roll back to their old OS.
"Allegedly the Windows 10 installer genie checks the consumer's computer for compatibility; it does not, however, check the condition of the PC and whether or not the hard drive can withstand the stress of the Windows 10 installation," or whether a user's third-party software is compatible with the new system, according to the complaint.
The Lead plaintiff Stephanie Watson said her hard drive failed after Windows 10 installed without her express approval, forcing her to buy a new computer. Co-plaintiff Robert Saiger said he agreed to the upgrade but afterwards found his existing applications ceased working after the installation.
A third plaintiff, Howard Goldberg, says after clicking "no" to daily popup ads on his computer for six months, he eventually agreed to upgrade, but that this ended up being a disaster.
"After three attempts to download Windows 10, each of which tied up his computer for extended periods of time, Goldberg's computer was damaged, and Windows 10 was not actually downloaded and functional," the lawsuit states. Goldberg claims he had to pay Microsoft to make his computer work again.
Microsoft offered a free upgrade to Windows 10 for a year after the release of the OS in July 2015.
The lawsuit asserts claims for breach of warranty, product liability, negligence, and consumer fraud and seeks punitive damages for all Illinois residents who suffered loss of data or damage to their computer within 30 days of a Windows 10 upgrade.
Microsoft has been accused of using Dark Patterns to hide options for users to decline the upgrade and to channel users into thinking they had no option but to agree. Speaking on Windows Weekly podcast, Microsoft's Chief Marketing Officer Chris Capossela admitted this was a mistake, saying:
"We know we want people to be running Windows 10 from a security perspective etc, but finding that right balance where you're not stepping over the line of being too aggressive is something we tried and for a lot of the year I think we got it right, but there was one particular moment in particular where, you know, the red X in the dialog box which typically means, you know, cancel didn't mean cancel. And within a couple of hours of that hitting the world, with the listening systems we have we knew that we had gone too far and then, of course, it takes some time to roll out the update that changed that behavior. And those two weeks were pretty painful and clearly a lowlight for us."
In their formal response to the suit however, a Microsoft spokesperson said, "The Windows 10 free upgrade program was a choice designed to help people take advantage of the most secure, and most productive Windows. Customers had the option not to upgrade to Windows 10. If a customer who upgraded during the one year program needed help with the upgrade experience, we had numerous options including free customer support and 31-days to roll back to their old operating system. We believe the plaintiffs' claims are without merit."
The suit claims more than a 100 members and more than $5 million in damages. It can be seen in full here.