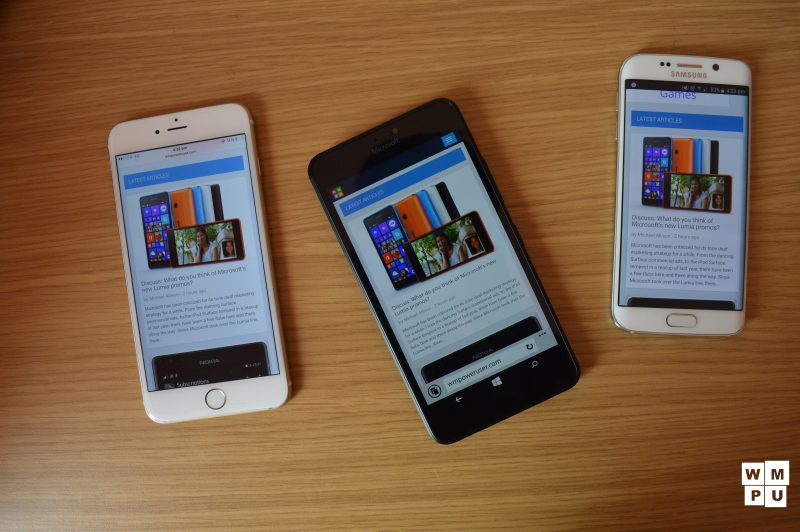 Just last week I wrote an article about me leaving Windows on phones because it – for me personally – does not fit my needs anymore. I am surprised how much support and how little hate the article eventually received but that is not the case now.
I really like my new iPhone 6s Plus but it is far from perfect. In fact, I would really love it if some Windows typical features would be available on iOS as well. On the other hand, there are some new things I do not want to miss anymore. However, I will not write an article about that as that may be too provocative for a Microsoft centered website.
Anyhow, let me start with the neutral stuff that is the switch itself. Getting everything from my Lumia 1520 to my new phone was very easy. Since I have everything stored in my Microsoft Account, I simply set that one up on the iPhone and was good to go. After downloading the Office apps and OneDrive I was also able to view and edit all my office documents for free (even though I have to admit I do prefer the Windows 10 mobile Office apps in terms of UI and usability) and OneDrive uploads all my files automatically. All my emails are sent to the phone as push messages. Unfortunately, though, reminders do not work cross platform between iOS and Windows as they are obviously not stored in the calendar. I can have the iPhone save a reminder in my Microsoft account but it will not be visible on the computer and neither will be a location based reminder in that case (or vice versa).
Now, after a weekend with the iPhone I really do miss some things which I believed to be essential. Let me start with the most obvious one: Live Tiles.
One may argue that Live Tiles are not really necessary as you will end up opening the app anyway. That is only partly true. Of course you will end up opening the app if you see something interesting on the Live Tile but exactly that is the thing: if… If I, for example, have seen a headline on the Live Tile of MSN News that interested me, I opened the app. If I have seen one that I was not interested in, I did not open it, simple as that. Now on the iPhone I find myself opening news apps way less than on my old Windows Phone simply because I cannot see a) if there is something new (e.g. no counter of unread articles) and b) what is new. Of course there might be some apps offering a counter on the app icon and a widget for the notification center but I am talking about official apps here. While Live Tiles are an essential feature of Windows Phone apps, on iOS the digit on the app counter is meant to be used for unread notifications only. Unread articles do not belong to that category and first party developers will certainly not use the back door of camouflaging unread news articles as notifications only so the app icon can have a counter. It may be obvious that one will miss Live Tiles when switching to a different OS but this is one of those cases of "you only know you love something when it is gone". I knew what I would have to expect but I was not aware of how great Live Tiles really are.
Second, the camera. The iPhone's camera is great and in a first test I found the iPhone's camera to be slightly better than the one in my 1520. While the pictures had a very similar quality with the iPhone sporting less noise in low light pictures, the iPhone had the better working focus. Not only is it faster but in low light also more accurate. That is at least for photos taken with the phone's automatic settings. Because then PureView comes and beats the hell out of the iPhone. I really miss the option to manually choose my picture parameters. I can get good pictures with my iPhone using the automatic settings – but I can get simply amazing results with my 1520 using manual settings. Especially in low light it was great to be able to set exposure time and ISO to get pictures that look like they were made using an expensive camera and not "just" a phone. More than this, being able to set the intensity of the HDR effect or the flash are killer features. While the iPhone might have the better flash for some people (I like the 1520's flash a little better even though it is not dual color, though), the option to adjust it after the picture was taken resulted in really well-lit pictures. The iPhone's flash, on the other hand, can be a bit too bright at times for my taste, which of course you cannot change.
Third, I do not understand why the mail app does not support push notifications. The app syncs the mails with push, I can even make it ring when an email arrives and there is a counter on the app icon. But why in hell's name can I not have a notification in the notification center or on the lock screen. Seriously. Why? That is just stupid! More than this, while I find the native email app to be quite decent in general, not being able to link or exclude email accounts can be frustrating. *takes deep breath*
Last but not least I dislike that I do not see upcoming calendar events on the lock screen. I can add a widget to the notification center and can see what is coming up next together with a quick overview of the day when I pull it down, but I cannot just glance at the lock screen and see that I have an important appointment upcoming. Basically the same goes for Cortana/Siri. The voice assistants seem to be very similar here in Germany, but Cortana's news overview, for example how well your favorite team did in the last match, is not present on iOS. Fortunately you can compensate that through apps.
That are the things that I miss. Obviously it's all personal preferences and some other people will find other stuff they do not like. However, I am really surprised how similar, in one way, iOS and Windows Phone are.
I seriously do not think it would be a good idea to make a post about what I like more about iOS compared to Windows Phone/Windows mobile, but if anyone of you guys has any questions left, fell free to ask. The comment section is yours!