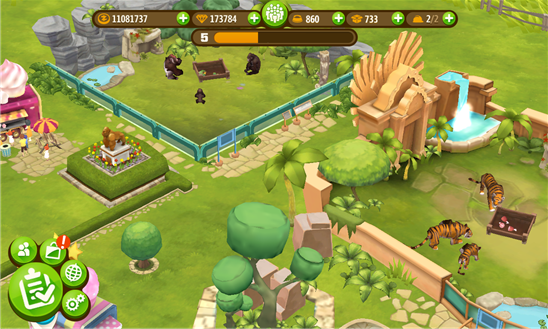 As announced previously, Microsoft has released "Zoo Tycoon Friends" game in Windows Phone Store in which players will join Arthur and his daughter Simone on a journey around the globe to tackle 15 missions and more than 100 quests to save exotic animals.
Game Description:
All-new Zoo Tycoon like you've never played it before! A Windows 8 and Windows Phone exclusive. In this delightful new spin on the wildly popular Zoo Tycoon franchise, build your ultimate zoo on any Windows 8 device, customize it with revenue-generating concessions and amazing decorations, and care for your favorite wild animals! Then take your zoo on the go as it syncs to your phone. Zoo Tycoon Friends offers the best of the Zoo Tycoon you know and love on your Windows tablet, phone, and PC!

Zoo Tycoon Friends Bonus Story Feature!

Animal Lover Seeks Round-the-World Adventure, Rare Animals, and Romance in Remote Nature Sanctuary! Follow eight engaging characters as they travel the world, facing danger and heartbreak in search of the animals they love. Their mission: Rescue wild animals in peril from global warming, flooding, drought, and other natural and man-made threats. Who is the mysterious benefactor—and is he a force for good … or evil? Who will win the heart of Arthur, the handsome and intrepid adventurer? Will his daughter Simone make a new friend? And will the team make a permanent difference in the lives of the wild animals they save?
Enjoy the game!
Download it here from Windows Phone Store for free. Watch the trailer after the break.