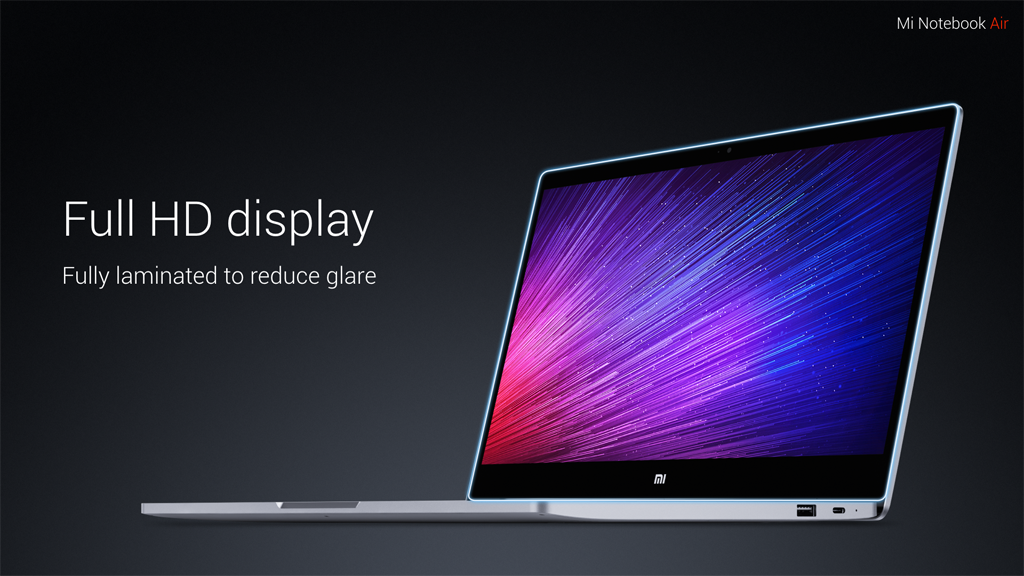 Xiaomi is launching a new Windows 10 device today. This isn't the company's first Windows 10 device, as it previously released a tablet running Windows 10. Today, the company is bringing a new notebook to the market to compete with the Apple MacBook Air, along with some other high-end Windows 10 devices. The device, which Xiaomi is calling the Mi Notebook Air, comes with a full metal body. It has 13.3-inch Full HD display (there's also a 12.5-inch variant), but it still has an 11% smaller body than the MacBook Air (which also has a 13.3-inch display). The device also comes with a full-sized keyboard with backlit keys. In case you are wondering about the ports, there's a two USB 3.0 ports, one port for USB Type-C, one HDMI port, a headphone jack, and a microSD card slot.
Under the hoods, there's an Intel Core i5 processor clocked at 2.7GHz, 8GB DDR4 RAM, and 256GB of internal storage. Here are the full specs for the 13.3-inch variant:
NVIDIA GeForce 940MX dedicated graphics card
Intel Core i5 processor, runs Windows 10 Home
8GB DDR4 RAM + 256GB PCIe SSD, expandable SSD slot
9.5-hour battery, 50% charge in 30 minutes
Lightweight full metal body, weighs just 1.28kg
Elegant logoless exterior, personalize with stickers Mi Cloud Sync, Mi Band 2 unlocking
For the smaller variant 12.5-inch variant, you'll get:
Just 12.9mm thin
Full metal body, weighs only 1.07kg
Intel Core M3 processor, 11.5-hour battery
4GB RAM + 128GB SATA SSD, expandable SSD slot
1080p FHD screen Edge-to-edge protective glass
The device comes with Windows 10 Home, which might be a slight disappointment for some users but you can always upgrade it to Windows 10 Pro if you want. If you happen to own a Mi Band 2, you will be able to unlock your Mi Notebook Air with the Mi Band 2 which is a pretty great feature. In addition to this, the device comes with Mi Cloud Sync which will let you sync contacts, media, and other data between your Xiaomi devices (but you're better off using OneDrive or Dropbox).
Xiaomi says it will be selling some stickers for the device, which will let you give your Mi Notebook Air a unique look. Alongside the stickers, the company has also revealed some sleeves for the device which look pretty great. The company will also be selling a Gold variant of the device, similar to some of the new MacBooks.
The device is expected to go on sale in China for ¥4,999 (around $750) with the GPU, and the company is also selling it without the GPU which will cost you ¥3,599 (around $540). The device will be available from August 2, which is when the Windows 10 Anniversary Update is being released — although it's not clear if the device will come with the Anniversary Update (but you can upgrade to the latest version of Windows 10 once you get your Mi Notebook Air).