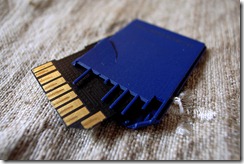 In a further move to make Windows Phone 7 series devices more like iPhones and less like smartphones, Microsoft has said Windows Phone 7 will not support memory cards, unless these are not user replaceable.
Windows Phone 7s won't support user-replaceable memory cards, Kindel said. Microsoft will work with OEMs to make sure that phones have enough storage for media and 3D games, but there will be no MicroSD cards for music. Some phones could have a MicroSD locked under the battery, but it won't be user-replaceable.
Microsoft needed to exercise some control to provide a great set of consumer experiences, Kindel said
While guaranteeing minimum installed storage is a good, this move is just another that will alienate current Windows Mobile users who were not looking for just a Microsoft-branded iPhone.
Via PCMag.com