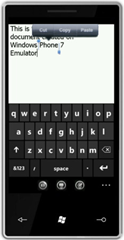 I know many of our readers feel I am unnecessary and unfairly down on Microsoft's new mobile OS, and harbour an unnatural love for Windows Mobile 6.
The reasons are however simple – Microsoft has given long time fans of Windows Mobile precious little to love about Windows Phone 7, with each piece of news that gets dribbled out seemingly only making things worse.
The latest is the revelation that the only way to get documents onto a Windows Phone 7 device is either to e-mail it to yourself or use some cloud-based solution such as Sharepoint or Skydrive. No mention of USB transfer or bluetooth FTP or even Activesync. In short again just another poor copy of the iPhone.
Now this bad news is tempered somewhat by the not unexpected news that Windows Phone 7 will support multiple Exchange accounts, but as this seems to be a less than compelling feature that is hardly exciting.
This has prompted to to write another editorial, hopefully giving Microsoft some idea of what would keep this long time Windows Mobile user happy.
What Microsoft has done right is:
1) New user interface developer tools
This was a long time coming, and frankly something Microsoft should have made available years ago.
2) Better minimum hardware specifications
If Microsoft has specified a minimum of ARMv7 processors and capacitive screens 18 months ago Windows Mobile would have been a lot more competitive.
3) Multimedia improvements
This is one of the biggest failures of Windows Mobile and Microsoft in general, and we frankly did not need a whole new OS to get an improved Windows Mobile player.
4) Over the air updates
This essential feature have been lurking in our phones since Windows Mobile 5, but has of course for some unfathomable reason never been used, not even when the widespread Daylight Savings Time issue presented the perfect opportunity.
The list of what they have done wrong almost seems too long to list, but I shall give it a go in any case.
1) The massive delay before the release of Windows Phone 7
We understand Microsoft changed strategy half-way along the way and threw out all previous work, including the baby with the bath water, but this particular error may be the fatal one.
2) Removing signature features such as cut and paste and multi-tasking.
These are particularly ironic in the face of the iPhone adopting the same. And before anyone say the iPhone is using the same version of multi-tasking as Windows Phone 7, this is patently not true when the iPhone OS 4 will allow background GPS navigation while Windows Phone 7 will not.
3) Removing all backward compatibility
It is really a toss up whether this or the delay in release will be the killing blow for Windows Phone 7, but together with the above it means Microsoft starts at exactly 0, with no momentum of upgrading users and no existing ecosystem.
4) A massive reliance on cloud services
Cloud services means a data plan, which limits the market to those willing to pay 50% more to use their device. It is also slow and unreliable in most parts of the world, including many cities in USA.
5) No synergies with desktop Windows
This is another massive weakness. Possibly related to anti-trust fears, we have seen all Microsoft's competitors leverage their strengths (Apple with ITunes and the iPod and Google with Search, Gmail and advertising).  Microsoft's desktop dominance is not reflected in any way in their mobile OS.
What can Microsoft do to rescue their new OS from almost certain market failure? I will go into specifics.
1) There needs to be a common storage area on the device with USB Storage Mode access, File Explorer access, Bluetooth FTP access etc.
I can accept not having root access to the application storage area and \Windows, but not being able to even browse \My Documents is a travesty. Not being able to enter USB mode and transfer a file rapidly is another.
2) Windows Mobile software compatibility
Even if only in an emulated environment like in WebOS, this would be much better than starting from zero, especially for business users.
3) Proper multi-tasking for certified apps.
Sure, not every application needs multi-tasking but some certainly do.  A simple example is a pedometer, which needs to run in the background constantly.  The OS obviously also needs a UI to enable better application switching, like the Pre or even iPhone OS 4.0.
4) Give Windows 7 users a reason to run Windows Phone 7
There is about 1000 ways Microsoft could make running both of their OS's more desirable, but really simple ones could include simply being able to run your sidebar widgets on your phone, or being (easily) able to use your phone as a remote control for desktop Windows Media Player.
5) A roadmap for the development of the OS.
Microsoft could get away with shipping their current crippled implementation if they had a clear roadmap which promised when better features will come.  In its absence users who may have waited will simply defect.
6) Be a fast follower
At present Microsoft is doing a pretty good job of copying the iPhone. From 3 years ago that is. Microsoft is a massive company with 1000 people working on their new OS.  There is no reason why they can not implement interesting features which appeared on other platforms in their OS, and rapidly too. By reacting so slowly they do little to assuage their image as a slow and lumbering giant.
7) Less reliance on partners
Microsoft traditionally rely on partners to help them achieve their goal.  This is failing pretty badly for them, with HP for example most recently cancelling the Slate. Other examples are ideas such as the Spot watches and Sideshow. They need to take responsibility for bringing their own ideas to fruition. This means more first party software and hardware, more games created directly by Microsoft, more accessories made by them, and a more direct relationship with the consumer.
Unless Microsoft takes all or at least some of these ideas on board they are destined to fail, even with consumers and the non-power users who many of our readers feel Windows Phone 7 is created for.
Do our readers feel I judge Windows Phone 7 and Microsoft too harshly? Leave your comments below.