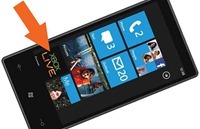 The headline is not news, but it may be we need to change completely how we think about Windows Phone 7.
Many analysts still talk about business being the natural Windows phone 7 market, and RIM being the competition, but like many of us, they are living in the past.
"The device emphasis is clearly a consumer device," said Microsoft's ISV developer evangelist Paul Foster. "[WP7's predecessor] Windows Mobile was a very successful business app, but the world changed with a focus on the consumer viewpoint. So we have rebooted our mobile phone product by delivering – along with Windows Mobile, because it still exists there under our Windows Embedded team – a consumer-focused Windows Phone 7."
"What we're seeing in the business side… is some Windows Phone applications that are connecting in to Windows Azure," added Foster. "From your device [as a developer] you only have to provide one login and [Windows Azure's] service bus routes the various calls through to those target apps."
He acknowledged that Windows phone 7 does not support enterprise features such as vertical applications. but promised it will come soon.
"At this moment in time we don't support that," confirmed Foster. "It's top on our list but at this moment in time we don't support it for V1."
He did feel however the OS had enough to support the casual business user.
"There's a lot of functionality to facilitate a business person's activities," claimed Foster, noting the Microsoft Office Mobile, Exchange and SharePoint integration.
For the rest, there was still Windows Mobile.
"The task-oriented application, the Fed-Ex, the UPS guy – that's all about mass devices being managed centrally and that is what Windows Mobile does very well."
Read the full interview at Silicon.com