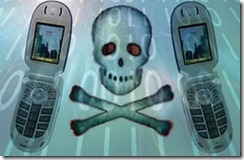 Kaspersky has uncovered a new Windows Mobile trojan which is a bit more sophisticated than the run of the mill SMS diallers found in the wild.
The malware, dubbed Trojan-SMS.WinCE.Sejweek.a, which is commonly found associated with pirated software, downloads an XML file from a website which contains the numbers of premium rate SMS numbers and the frequency at which the expensive ($1 per message) SMS messages will be sent. Due to the variety of SMS numbers being sent to it is less easy to block the money making part of the scheme, making the trojan's utility that much longer lived.
Read more about the malware at Viruslist.com here, but bear in mind the software is not self-propagating, and requires the installation of untrusted software, which would commonly be found on forums or warez sites.  The solution is therefore simply to support our developers and only install software from trusted sources.
Thanks Anders for the tip.