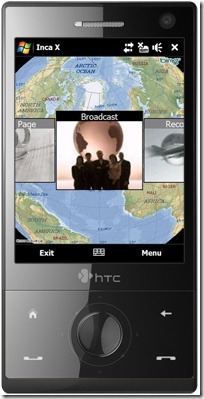 The United States Navy must simultaneously deploy and synchronize resources and personnel all over the world under highly dynamic and potentially hazardous conditions. To aid this work the U.S. Office of Naval Research (ONR) has conducted field testing of a mobile command and control solution using Microsoft® tools and technologies and phones powered by Windows Mobile.
"We are facing increasing pressure to lower the cost of providing and maintaining IT services for our customers," says Mr. Brian Reily, the ONR's Chief Information Officer. "At the same time, Federal IT organizations are being challenged by senior leadership to facilitate transformational change to enterprise business operations. Fortunately, several technology trends are converging to support both objectives by embracing mobile computing and cloud-based technologies [i.e., running applications and storing their data in distributed, third-party server farms]."
ONR Director of Disruptive Business Technologies Dano DeBroux initiated the AMC proof-of-concept exercise to demonstrate how mobile platforms present a significant opportunity to reduce the Navy's IT footprint and support infrastructure while enabling business and operational capabilities for its distributed, highly mobile workforce.
Specifically, the following were required:
• Geo-tracking
• Mobile information sharing
• Exercise and event reconstruction
Because the AMC exercise needed to enable both mobile- and server-based business and operational functions for a distributed workforce, one of the critical success factors was that the solution be device- and carrier-independent.
The proof-of-concept solution included 15 HTC Touch Pro mobile phones with cameras, which were unlocked for the exercise by Verizon and Inca X Live Media GPS, which provided real-time resource tracking and remote video Webcasting capabilities. Inca X Live Media GPS also provided the ability to archive tracking and broadcast data collected during the demonstration.
Additional proof-of-concept components included the following:
• Inca X GeocastServer: Supported broadcasting and geo-tagging in real time
• Microsoft Office SharePoint Server 2007, Microsoft SilverlightTM , and Microsoft Live Mesh: Easy integration of these components resulted in a Web-based interface that provided command and control staff with a secure environment for accessing and analyzing data
• Microsoft Virtual Earth (now known as Bing Maps for Enterprise): Allowed DBT to visualize geographic and location-based information
• Photosynth from Microsoft Live Labs: Geo-tagged still images were processed through Photosynth to support event/exercise reconstruction
• Celio REDFLY Mobile Companion: Provided an alternative for environments not conducive to a mobile device form factor
• Microsoft Mobile Communicator: Supported presence/status awareness, instant messaging, and text-based group chat
• Loudtalks: Provides push-to-talk capabilities via a managed online service, which were to be leveraged in the event of poor radio coverage
The entire Windows Mobile service for the exercise was provisioned via the cloud, and the Inca X application, installed remotely on Windows Mobile phones, runs in the background, collecting and broadcasting real-time GPS data from jeeps, tanks, boats, and other land or sea based vehicles to which the devices are attached. The data is then available to users in the command and control center via the Web-based Silverlight enterprise client embedded in SharePoint.
Using the Silverlight dashboard and SMS functionality built into Windows Mobile, C2 staff can send programming instructions to the devices that require no human interaction. After the instructions are received by the onboard devices, C2 staff can monitor both worldwide geographical context as well as specific, on-location detail being broadcast from the various entities' points of view.
All of the resulting data is captured by the Inca X GeocastServer and can be used later in reviews, event reconstructions, and for other exercises.
Inca X Live Media GPS integrated seamlessly with Microsoft SharePoint, Microsoft Silverlight, Windows Mobile 6.1, and Microsoft Virtual Earth. "Integration of Inca X Live Media GPS data with Virtual Earth and Silverlight worked flawlessly," DeBroux notes. The only gaps in tracking data were due to the mobile device battery life.
A small subset of the capabilities has been transitioned for a pilot, and DBT will also be conducting a follow-on exercise. The scope of these activities encompasses green computing, reducing the organization's IT footprint, and enabling a mobile workforce. In addition, they will focus on integration of the core Microsoft Office productivity suite with its online offerings.
"This was a validation of the agility of Microsoft products," DeBroux says. The exercise demonstrated to ONR that the capabilities and functionalities provided by Microsoft, Inca X, and other commercially available IT tools and technologies are potentially transformative for the way enterprise organizations communicate, collaborate, and optimize their increasingly mobile assets.
Read more about the pilot at Microsoft here.