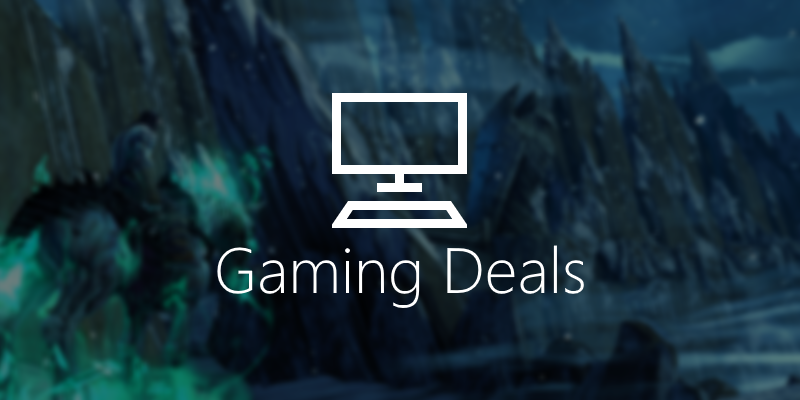 It's Friday again, so it's time to list this week's PC gaming deals. As it's often easy to get lost looking for (and through) sales, we gather some of the best deals and list them here every Friday. This week's deals include games published by THQ, a classic RPG, as well as what some might consider a modern classic.
Steam deals
There's some pretty good deals on Steam right now. If you've got a VR headset, you might want to check out the big VR weekend sale that's going on right now. While I can't vouch for the quality of most games in there, I can recommend checking out Tabletop Simulator. Free weekends are also currently running for Rainbow Six Siege and Ark: Survival Evolved.
Recommended games on sale:
Downwell ($1.49) – Downwell is one of those games that's equally simple and satisfying. You're in a narrow cavern with one goal: reaching the bottom. It can be somewhat difficult at times, but the difficulty isn't frustrating whatsoever because you're always making progress. It's a great game, and well worth the asking price.
THQ Classics ($22.49) – This is a big bundle with some games from the good old days when THQ was active. Some of the most notable games in here are Darksiders 1/2 and Red Faction Guerilla, and you really should play any one of those three if you haven't already.
La-Mulana ($3.74) – If you like older Castlevania games like Symphony of the Night, play La-Mulana. It's far more difficult than the games it brings back memories of, but it's a great adventure. The game's soundtrack (which you can hear in the trailers) is also worth a listen, too.
GOG deals
This isn't GOG's strongest week for sales, but there's still some good games with their prices slashed. While I don't have much knowledge of it at all, Hyper Light Drifter's available for 20% off. There's also the usual collection of weekend deals.
Recommended games on sale:
Victor Vran ($5.99) – Victor Vran – like the Adventures of Van Helsing – is a game that wants to put the action back in "Action RPG". It's made for people who enjoy good combat and an isometric view, so give it a shot if that describes you.
Gothic ($1.99) – Gothic is old, and it feels even older. If you can get past its dated controls and graphics, though, you'll find a classic RPG. The developers of the Gothic trilogy went on to make the Risen trilogy, and you'll find that series' roots back here.
Kerbal Space Program ($23.99) – Kerbal Space Program is a game that almost anyone can enjoy. It doesn't matter your age, skill level, or anything else, strapping little green men into custom built rockets is fun. Your goal's to build a spaceship and send one of the little green "Kerbals" to the moon, and it's just as tricky as it might sound. There's some trial and error involved, but that doesn't take away from the fun.
Other bundles and sales
There's always going to be some good deals around the web that don't fall into the previous categories, and this week is no different from any other in that regard.
Saints Row vs Metro Bundle ($12.49) – You can get the redux versions of both Metro 2033 and Last Light, as well as Saints Row IV, Gat Out of Hell, and its DLC for twelve dollars. Definitely not a bad deal, although that's usually the price of the Saints Row franchise pack during sales.
GMG's Summer Sale – GMG usually has some nice deals, and their Summer sale isn't half bad.
Have any deals you want to share? Post them in the comments below!