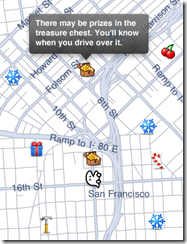 Waze, the first free provider of driver-generated maps and real-time road information, today announced a new holiday version of its free navigation app to include holiday-themed 'road goodies', a treasure hunt contest, integration with foursquare, as well as multi-language support.
Waze recently added 'road goodies' – small icons worth bonus points – to the map in areas where the waze system has identified map problems. As users drive around to munch these 'goodies', the system analyzes the driver's GPS data to automatically solve the identified problems, improving map quality, and therefore navigation, for all drivers in that area. The holiday version features wintery, new 'road goodies' including snowflakes, candy canes and small gift packages, scattered all over the map.
Waze's holiday version also announces the 'Holiday Treasure Hunt', featuring treasure chests that, when driven over, have the potential to reward users with anything from bonus points to valuable real-world prizes. From December 17, 2009 to January 1, 2010, users, worldwide, should start looking for treasure chests along their daily commute for their chance to win. More details can be found on the waze blog.
Taking the gaming aspect of waze even further, this version also features an integration with Foursquare, a new location-based geo-gaming app with a lot of buzz. Users of both apps can now 'check in' to various locations on Foursquare via the waze client – a feature that's sure to become very popular – and even earn a waze 'roadwarrior' badge.
In addition the elements mentioned above, waze's holiday version also introduces a new capability allowing for quick translation and availability of waze in any language. The version includes Spanish and Italian support, both on the client interface as well as the audio navigation prompts. These translations were fully undertaken by waze community members, and any other users who'd like to help translate waze into their language are invited to the waze wiki (www.waze.com/wiki) for more information on how to do so.
"There's a lot of fun to be had on waze this holiday season," says Noam Bardin, waze's CEO. "In addition to the holiday-themed 'road goodies' and treasure hunt contest, we're very enthusiastic about our collaboration with Foursquare. Individually, waze and Fourquare are taking geo-gaming to the next level, and, combined together, we're positive that our users will be able to experience both apps in exciting new ways."