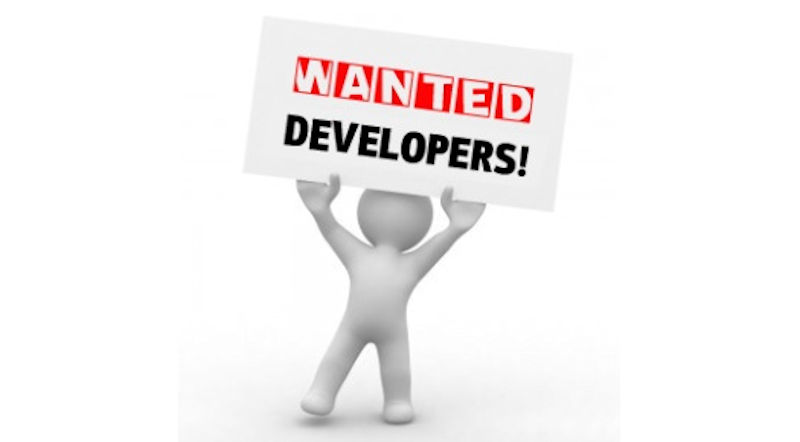 VisionMobile have posted the results of their Q3 2016 survey of 16,500 mobile developers.
The survey found an increase in interest in the Android platform, some fading of interest in iOS, and that only 4% of developers were targeting Windows Phone first, down from 8% a year ago.
VisionMobile did however conclude that Microsoft's Windows 10 strategy developer strategy was working, saying:
Microsoft has been struggling to break into the mobile market ever since it was slow to react to the iPhone. Despite buying Nokia's devices unit and pumping enormous amounts of money into marketing, sales traction never materialised. Surface tablets with ARM processors (branded "Surface RT") didn't sell either. Microsoft's hope of building a profitable niche around their Continuum concept; smartphones that turn into a full PC when docked with a keyboard, mouse, and monitor, may have been dealt a blow when Intel decided to pull out of smartphone processors this year. The docked phone is going to be missing essential enterprise apps, just as the ARM-based tablets were. However, Windows tablets with Intel processors are looking like winners, in particular hybrid devices, that are both a tablet and a laptop, are successfully blurring the line between desktop and mobile development. Developers of desktop apps for Windows are now incentivised to create mobile optimised UI's too. This has pushed Windows 8/10 into third place in platform mindshare, with 34% of developers targeting it. Enterprises using existing, native, Windows apps that are looking to take advantage of tablets may have significantly less development effort if they stick with Windows. If they really want to support iOS or Android then Microsoft can offer them Xamarin, so they don't have to migrate their code away from .NET.

Windows Phone, which is still selling even if new devices will all be Windows 10 Mobile, has remained stable at 27% mindshare although the percentage of professional developers prioritising it has fallen to 4%. This loyalty from developers may seem surprising in the face of plummeting market share as Microsoft scales back their smartphone efforts. Windows on the desktop owes much of its success to OEMs creating their own hardware in which to run the Microsoft platform, but despite drops in pricing and other incentives OEMs have failed to fill the gap. We saw similar temporary loyalty from BlackBerry developers in the past, as their customers disappeared too. In this case we won't get to see the true drop in Windows Phone developers when it comes as they'll be largely absorbed into the Windows 10 developer pool.
Looking at the regional map it is clear there is no particular market where Windows 10 development peaks, showing that Microsoft still has a long way to go, despite its large 350 million installed base.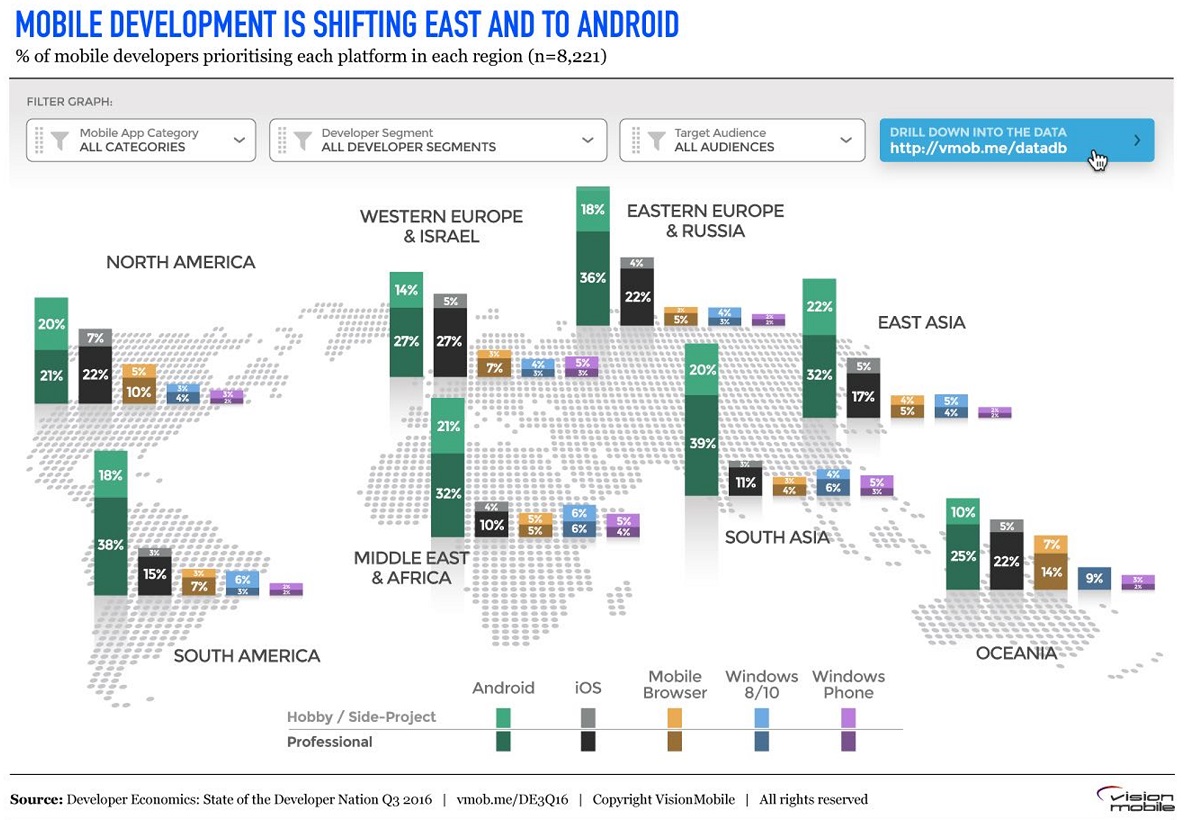 Unlike Windows Phone however the installed base for Windows 10 will only increase over the next 2-3 years, which will hopefully slowly win developers over. The biggest issue for Microsoft is unfortunately that most Windows 10 users also use Android or iOS devices, meaning developers do not have to develop for Windows to reach Windows users. Microsoft will need to continue to enhance their own platform to attract both users and developers into using their products first.
The full developer survey can be downloaded here.