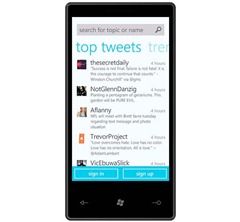 One of the big complaints about the official twitter client for Windows phone 7 is that it does not make use in any way of the Live Tiles features of the OS, a significant and high profile omission in an otherwise reasonably good application.
Twitter has now announced on their blog that they will now start pushing @mention notifications to iPhones, and they are working to bring this service to Windows phone 7 soon.
The feature will not only make the software much more capable as a messaging platform, but also help fulfil Microsoft's stated goal of making Windows phone 7 a "glance and go" OS, instead of having to dig into applications to check for updates.