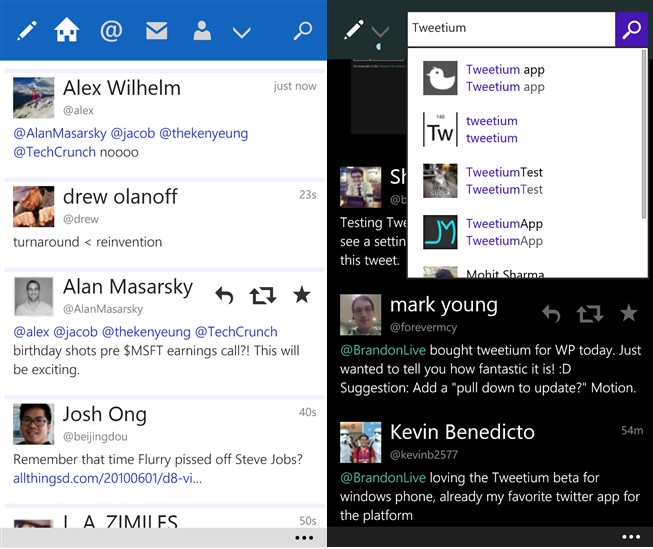 Tweetium Twitter client just got updated in Windows Phone Store. This update includes no.of improvements and bug fixes. This update now has new conversation experience, updated navigation bar design, and much more. Find the full list of changes below.
Change log:
– New conversation experience for phone
– Updated nav bar visuals
– Added Crimson and "XB Green" accent colors
– Improved touch keyboard interactions/animations
– Expanded view now shows a share icon with other controls (helps discoverability of share).
– Fixed a bug causing the view to jump by a few tweets after quick resuming in certain cases
– Fixed a bug where the updated last read position for Connect would not be saved correctly in certain cases
– Fixed two cases where the quick action buttons in vertical mode would not display on the top tweet as expected
– Fixed occasional duplicate notifications appearing in Connect+
– Enlarged the touch hit targets of quick action buttons slightly
– Touch keyboard no longer comes up automatically when expanding a DM thread with touch
– "Gray" background is now the same achromatic gray as the gray accent option
– Phone back button now dismisses reply boxes before dismissing the entire thread
– Changed "n following" to "follows n" on profiles for clarity
– The large tile now properly shows the sender (not recipient) for DMs
– "Start at last read" no longer affects the Me tab or user profiles
– Grouped retweets in search results now show the original tweet when clicked/tapped
– Possible fix for DMs from the wrong account showing after switches in rare cases
– Phone keyboard now comes up properly when sharing to Tweetium (OS bug workaround)
– Fixed a couple of rare crashes
Update it here from Windows Phone Store.