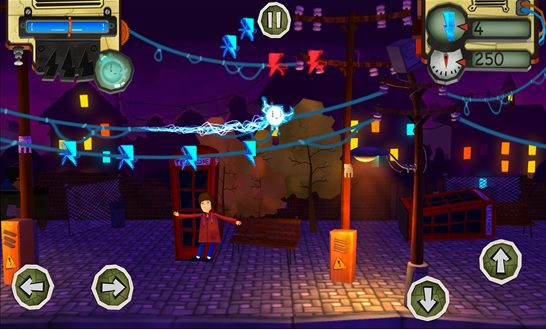 "TurnOn" is an adventure platformer game released exclusively for Windows Phone devices. It has an intuitive and easy controls, exciting and deep gameplay, original graphics and its own unique story. This game is the winner of Imagine Cup 2014 in Games category.
Game Story:
The game tells us a story about an alive electrical spark named Turnon, which is trying to return electricity to the whole city. Turnon travels in the power station and restores its functioning, explores and ignites the light in de-energized suburban areas, helps people in different situations without light, climbs on high-voltage wires and moves to the rhythm of music, fights with unexpected enemies. His journey becomes an exciting adventure in the world of electric facilities.
Game Description:
Help TurnOn to bring electricity to blackout city! Each level is an amazing journey in the electrical world. Collect all the charges, turn on the lights in each house and do not skip none lantern, find all electrical objects on the level. Levels become harder, and unexpected enemies are waiting for you in the ends of the episodes!

– Control the electricity, feel Prometheus yourself and bring people the light!
– Hidden rooms and objects on the levels, to find all of them you have to be the most attentive.
– Additional levels between the episodes: jump and move through the high-voltage wires in the rhythm of the music and collect all the electrical charges avoid birds and different obstacles, complete the episode and share your results with your friends!
Download it here from Windows Phone Store for free.