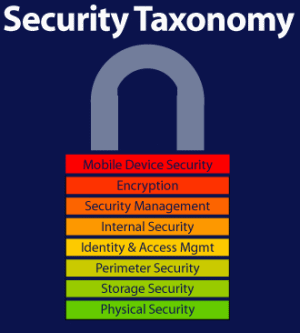 Trend Micro has compared four mobile operating systems, Blackberry 7, iPhone, Windows Phone 7 and Android for suitability for enterprise use, scoring them on a combination of factors including built-in security, application security, authentication, device wipe, device firewall, virtualisation, and many others.
The final outcome was  BlackBerry 7.0 scored highest across the board (2.89), ahead of (in descending order) Apple iOS5 (1.7), Windows Phone 7.5 (1.61), with Google's Android 2.3 scoring the lowest at 1.37.
On Windows Phone they said:
Windows Phone – Microsoft has learnt the lessons of the past and created a reasonably robust and secure smartphone operating system in Windows Phone. The OS uses privileges and isolation techniques to create sandbox processes. These "chambers" are based on a policy system that, in turn, defines which system features the processes operating in a chamber can access.
Android was criticized for not having a central means of providing Operating System updates, meaning that many users remain unprotected from critical vulnerabilities for a prolonged period, having removable storage and allowing the user to give apps privileges which can easily compromise security.
Windows Phone 8 is expected to increase Enterprise support tremendously, which should vault the OS over the iPhone, if not completely up to Blackberry territory. Maybe buying RIM will solve that problem 😉 .
Read the full report here.