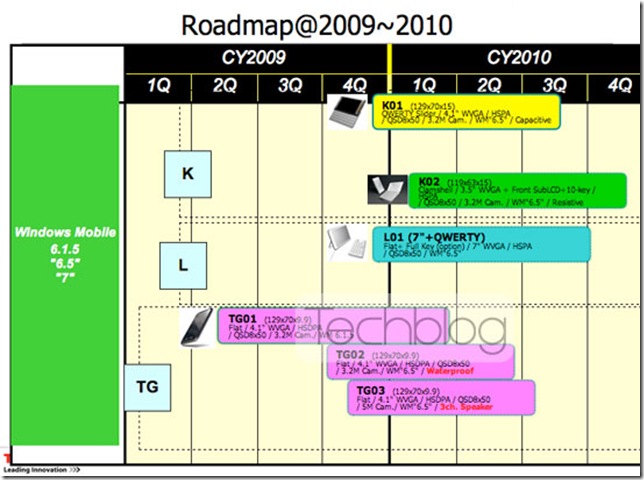 A Greek site has published what they claim to be Toshiba's smartphone and MID roadmap for 2009/2010, and it seems to have an answer for the most demanding Windows Mobile user in its line up.
First of course the TG01, which according to the roadmap is set to pop up pretty soon.
Next is the TG02, a water-resistant version of the TG01 which will be splash proof in routine use, apparently aimed at people who like to browse the internet in the rain. This one is set to arrive around Q3/Q4 and will come with Windows Mobile 6.5 out of the gate.
Next will be the TG03, which is also a variation on the TG01, but will feature a 5 megapixel camera and 3 channel speaker with 5.1 sound. This device will be aimed at media buffs, and we can only hope it will come with a 3.5 mm headphone jack, although there is unfortunately no indication of this. It will however come with desktop-based video transcoding software, ensuring a good experience when playing back video on the move.
Then we have the K01, a QWERTY slider with the same 4.1 inch screen and only 15mm thick, but finally answering the prayers of many WM users by featuring a capacitive touch screen, while still running WM 6.5.  This one is set to drop around the end of Q4 2009.
Around the same time the K02 will also arrive, featuring a smaller design, with only a 3.5 inch resistive screen in a clamshell form factor, but still only 15 mm thick.  This device will feature an external 10 key keypad and small LCD screen for use when closed.
Lastly, bringing 2009 to close, the L01 will be a WM 6.5 MID with a 7 inch screen, WVGA resolution and optional detachable keyboard.
While there is no guarantee all these devices will come to fruition it is reassuring to see such a full line-up littered with exceedingly desirable devices for nearly all tastes.  Lets hope we see all these devices, and sooner rather than later.
Source: Techblog.gr via Engadgetmobile.com