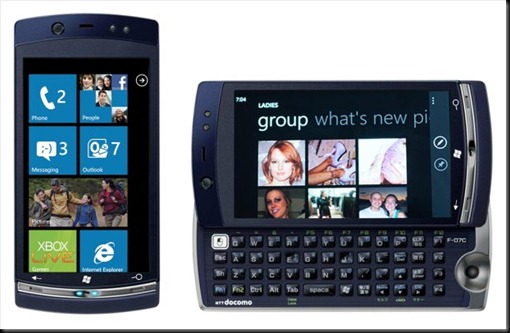 By now, most of you have read about or heard of the Fujitsu phone running Windows 7. That's right, the full OS on  an Atom based processor that gets a whopping two hours worth of battery life in Windows 7 mode! The manufacturer does have a WP7 device slated for the fall mango release but I like the design of this better.
There is a funny website called thereifixedit.failblog.org from which I borrowed the title. I hope I did a better job with the mockup than stuff found on that site. I took the liberty to "Photoshop" in a Windows Phone 7 interface and in my opinion, I think it would make a killer device and hopefully in two varieties, one with a keyboard like the one above and one without. The atom processor would be replaced by the latest ARM  chip.
This device also has some key features on my wish list for a phone
Real hardware keys for back, home and search
Front facing camera
LED notification light which in this case is nicely integrated into the home key. I miss that from my old HTC Wizard that is, being able to tell whether I had messages or that Bluetooth or Wi-Fi was on without having to turn the phone on.
The keyboard will of course have to change in order to meet the Windows Phone specs but I hope it maintains the spacing between the keys.
What do you guys think?
Original image source Fujitsu
Image credit pocketnow.com for the landscape mode picture.