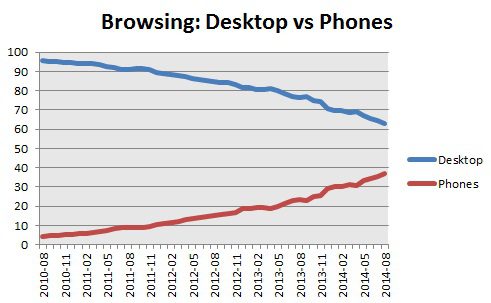 We are used to thinking of phones as accessories and peripherals to PCs, but with smartphones close to outnumbering the 1.5 billion PCs in use, it is time for Microsoft to rethink the role of Windows.
For the consumer, the smartphone has rapidly become the center of their universe, with a large percentage of users never more than a 3 feet away from their phones.  Because of this it is the source of their music, games, web access, communication, tickets, and soon payments, leaving the desktop only for education, study and productivity.
Statcounter data above suggests that in less than 2 years most web browsing will be done from a smartphone vs the desktop, with the numbers already set to hit a 40:60% split by the end of the year.
Now Microsoft can work hard at fighting the trend by making Windows better for all the usual smartphone scenarios, but in the end it is a futile venture.
Microsoft needs to make Windows a better client for the real master of the personal electronics universe – the phone.
There are a few ways they can do this, by leveraging the strengths of a powerful stationary computing platform like a PC or most laptops, which are used plugged in in a fixed location at home.
1) Media server – PCs should be using the massive storage and fast internet connections to serve us our media wherever we are.  Of course the cloud already does this, but many of us do not want all our media in the cloud, given that it is not the most private or secure location.  A good client server combination should work much like Plex, making it easy to search for media on your PC, convert it to a format your phone can use and stream it to your device for free.
2) It should be easy to transfer tasks from the phone to the PC and back, much like Apple's new continuity features. One should not need to go to your OneDrive to find the file you have been working on – it would be open already automatically as you approach your PC.
3) Phones should be used as authenticators for roaming PC profiles, using NFC or Bluetooth.  Users should be able to walk up to a PC, touch it with their phone, and have a desktop with their documents and settings already available.
4) It should be easy to screen share your phone to your PC, to use the input and output peripherals from your PC, for example the large screen, large keyboard, mouse, printer and other peripherals.
I am sure our readers can think of many other scenarios.  It is clear however that if Windows is to survive, it will be as a window to your phone.  Do our readers agree?