Is Copilot the best AI companion out there? Help us find out by answering a couple of quick questions!
Miracle solution to poor multi-touch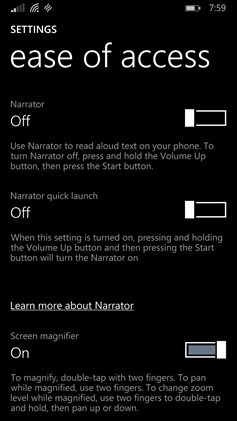 I have become increasingly frustrated by the hit and miss pinch and zoom on my Nokia Lumia 930, and by the look of my poll a few hours I am not alone, with 35% of owners complaining of the same issue.
Now reader Máté however delivered a really simple solution to the dogged issue – simple switch off Screen Magnifier in the Ease of Access settings.
Screen Magnifier is an Ease of Access setting which lets you zoom any screen, including the start menu, by double tapping the screen with two fingers.  The feature obviously adds an extra step to pinch and zoom detection, which causes to missed multi-touch issue.
To switch it off, simply go to Settings -> Ease of access -> Screen Magnifier and enjoy the phone working like it should.
Thanks Máté for the tip.