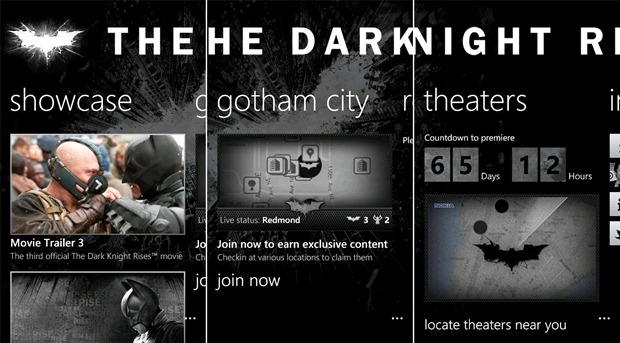 It turns out only UK and US could download The Dark Knight Rises App for Nokia Lumia 900s last week.
Now WindowsPhoneApp.es reports the app has spread its wings, and is now available also in the Spanish Marketplace.
The app includes exclusive wallpapers, included trailers, quick access to movie & cast info, a countdown clock until the movie's wide release, and the ability to find and purchase tickets for a nearby screening.
The app also includes a geolocation check-in game called "Claim Gotham City", which requires a Foursquare login and once you join, you choose between Team Batman or Team Bane. You then check-in to certain locations that are a part of the game to earn points. If you check-in to an area that's already been claimed, you can use points earned from prior check-ins to either attack against or defend the location from the opposition, which will unlock more bonuses in the app such as ringtones and an exclusive wallpaper.
There's also a cool augmented reality viewfinder included in the app, giving you a Wikitude-like view of the locations that are a part of the game.
The app can be found by Nokia owners in Marketplace here.
Let us know if it has turned up in your own local marketplace also below.