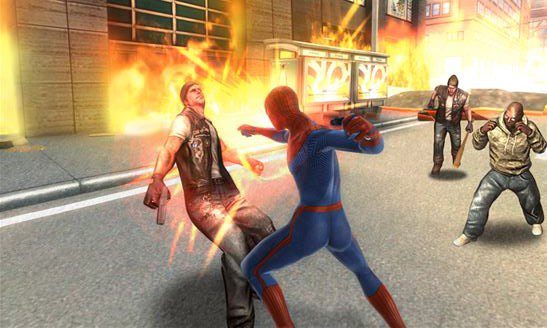 Gameloft is on a roll. They have released two Xbox titles for Windows Phone 8 devices this week. One was a free title Real Soccer 2013 and other one is this one, The Amazing Spider-Man. The Amazing Spider-Man game requires 1GB RAM on your Windows Phone device to work.
Game Description:
THE OFFICIAL GAME FROM THE 2012 MOVIE "THE AMAZING SPIDER-MAN"

Get ready for intense web-slinging action with the Amazing Spider-Man! Join Spidey in the official game app of this highly anticipated 2012 blockbuster! Play through the movie storyline as Spider-Man faces off against the Lizard and rampaging gangs. Web-sling and crawl your way through an open, fully 3D New York while using your amazing skills to save the city.

THE OFFICIAL GAME OF 2012's HIGHLY AWAITED SUPERHERO BLOCKBUSTER
• Fight the Lizard and his minions to put a stop to his dark schemes.
• Play the Amazing Spider-Man through more than 25 immersive missions inspired by the upcoming movie's storyline.
• Climb, jump and web-sling from building to building for an aerial thrill like never before!

FREE NEW YORK CITY
• Explore the city through its five distinctive districts (Central Park, Business, Downtown, Pier and Residential)
• An exciting and enjoyable fighting system with melee, ranged, combo attacks and much more
• A wide selection of upgrades to customize your style, attacks and skills

A HIGH PRODUCTION-VALUE GAME
• Explore an open-world Manhattan, teeming with action. Discover random missions, collectibles and more secrets in the City that Never Sleeps!
• Fight in a fully 3D New York City with cutting-edge graphics.
• Advanced shaders and visual effects make Spider-Man more realistic than ever before!
Download it here from Windows Phone Store for $6.99 with free trial available.