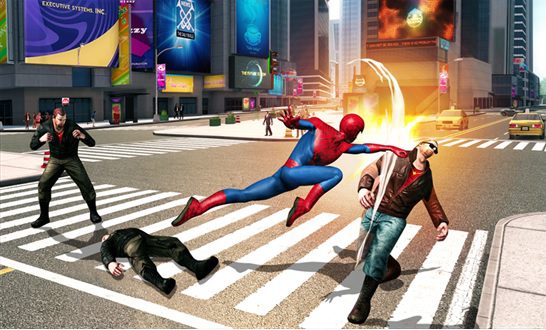 Gameloft has released an official game based on the Amazing Spider-Man 2 movie in Windows Phone Store today. As you expect, its a 3D adventure game where you will face off against some of Spider Man's greatest villains including Electro and Green Goblin.
Game Description:
THE OFFICIAL GAME OF THE AMAZING SPIDER-MAN 2 MOVIE
•Web-sling, wall-climb and web-shoot as the fast and quick-witted Spider-Man!
•An original story expands on the highly anticipated blockbuster film!
•Go beyond the film with new characters like Black Cat and Screwball.
•Unlock Spider-Man suits like Symbiote Spider-Man and Iron Spider!
•Face off against famous villains like Venom, the Green Goblin, Electro, and Kraven the Hunter!
•High quality voice acting and cinematic cutscenes brings the movie experience to life!
Download it here from Windows Phone Store for $4.99. Watch the gameplay trailer and game description after the break.
Game Description:
Become the Amazing Spider-Man in this open-world adventure full of non-stop action, and face the web-slinger's greatest challenge yet!
New York is under threat from a city wide gang war and only Spider-Man can stop it! Standing in his way is Electro and other nefarious villains. Can Spider-Man restore order and safety to the Big Apple?!
CUTTING-EDGE EXPERIENCE
•Intense combo-focused combat! Defeat Spider-Man's greatest enemies – from street thugs to super villains – in crazy acrobatic fighting styles!
•Swing free through the city like never before, thanks to high quality, fluid animations!
•Take the flight to the sky with action-packed aerial combat!
•Unleash devastating combos through enhanced button controls for an intense action experience!
MASSIVE ENHANCEMENTS TO THE ULTIMATE PLAYGROUND
•Adventure in a larger open-world Manhattan with 6 detailed districts to explore from the bustling Times Square to picturesque Central Park!
•Console-like graphics offer a bigger, better, and more beautiful experience
•A deeper story takes you on an exciting adventure showcasing 6 legendary villains and an expanded set of side missions!
•Spectacular social events, including battling waves of bosses and opponents in Mysterio's Arena!