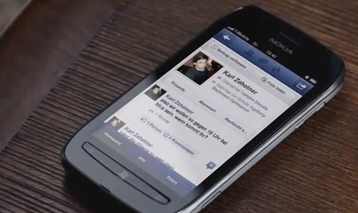 T-Mobile Austria thought it would be a good idea to remind buyers that Windows Phone 7 does have a Facebook app, and ran this add showing a father interrogating his daughter's boyfriend based on his Facebook profile.
So far so good, but the creators of the ad also felt for some reason the official Windows Phone 7 Facebook app was not familiar enough, and Photoshopped the iOS Facebook app onto the very Windows Phone Nokia Lumia 710.
Showing that Windows Phone has the essential apps that users expect on the platform is a great idea, but showing off the distinctive UI of Windows Phone 7 is another, and we hope that future Windows Phone marketing will work a bit harder at doing this.
Thanks Martin for the tip.