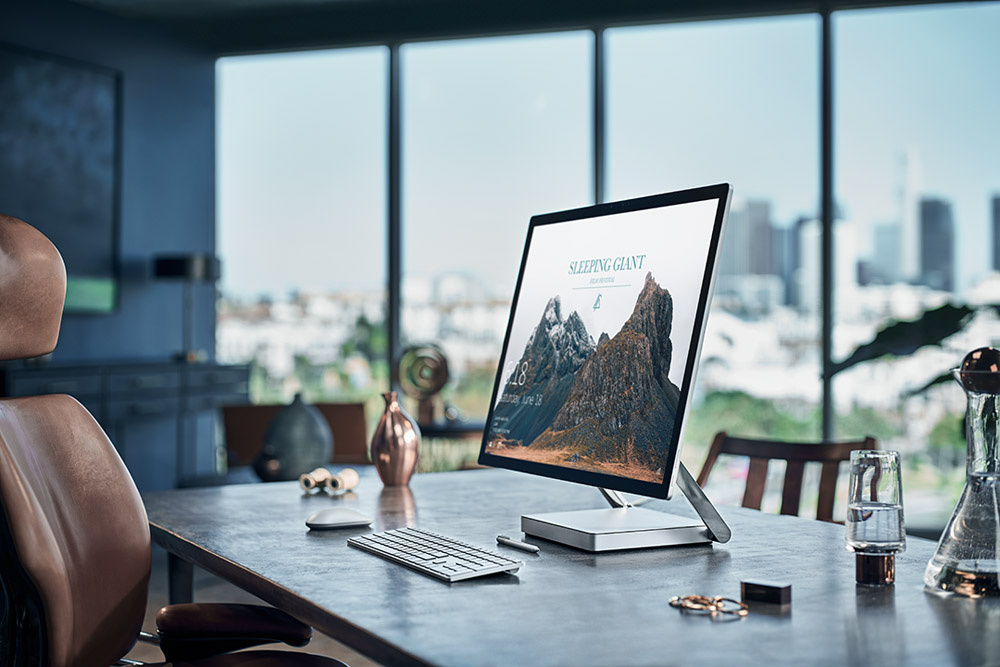 Microsoft has now released Surface Studio drivers and firmware in the Microsoft Download Center. You can use these drivers and firmware to prepare your custom images for enterprise deployment, or to repair problems with custom installations of Windows on your Surface Studio.
This firmware and driver package contains drivers for all of the components in the Surface Studio, as well as updates to the system firmware that have been released via Windows Update.
These drivers and firmware are compatible with Windows 10, including Enterprise versions. The driver MSI files include all of the drivers and firmware needed to deploy custom images of Windows on your Surface devices.
Additionally, the WinTab driver is provided for those professionals needing WinTab compatibility with certain Surface Pen enabled applications.
The following drivers are available for download.
Surface Embedded Controller Firmware (v117.1288.257.0)
Surface Management Engine (v11.0.15.1003)
Surface Touch (v5.120.5.251)
Surface UEFI (v117.1281.768.0)
Intel(R) Xeon(R) E3 – 1200/1500 v5/6th Gen Intel(R) Core(TM) PCIe Controller (x16) (v10.1.1.33)
Intel(R) Xeon(R) E3 – 1200/1500 v5/6th Gen Intel(R) Core(TM) Host Bridge/DRAM Registers (v10.1.1.33)
Intel(R) Xeon(R) E3 – 1200/1500 v5/6th Gen Intel(R) Core(TM) Gaussian Mixture Model (v10.1.1.33)
Intel(R) Ethernet Connection I219-LM (v12.15.23.1)
Intel(R) Smart Sound Technology (Intel(R) SST) Audio Controller (v8.20.0.931)
Intel(R) Smart Sound Technology (Intel(R) SST) OED (v8.20.0.931)
Intel Chipset SATA RAID Controller (v14.10.3.1041)
Intel(R) 100 Series/C230 Series Chipset Family SMBus (v10.1.1.33)
Intel(R) 100 Series/C230 Series Chipset Family Thermal subsystem (v10.1.1.33)
Xbox Wireless Adapter for Windows (v18.31.1.43)
NVIDIA High Definition Audio (v1.3.34.15)
NVIDIA GeForce GTX 980M (v21.21.13.6910)
NVIDIA GeForce GTX 965M (v21.21.13.6910)
Realtek High Definition Audio(SST) (v6.0.1.7937)
Realtek I2S Amp Device (v10.0.10586.16)
Surface IR Camera (v1.0.31.0)
Surface Dial Filter (v1.1.6.0)
Surface Display (v1.1.207.1)
Surface Display Color (v1.0.99.0)
Surface Integration (v1.0.182.0)
Surface Keyboard Firmware Update (v2.0.68.1)
Surface Keyboard Integration (v2.0.8.0)
Surface Mouse Firmware Update (v2.0.50.0)
Surface Mouse Integration (v2.0.8.0)
Surface Storage Firmware Update (RAID) (v1.1.722.0)
Microsoft LifeCam Front (v5.20.1034.1)
Intel(R) Management Engine Interface (v11.0.5.1189)
Intel(R) Serial IO GPIO Host Controller v30.63.1620.3)
Intel(R) Serial IO I2C Host Controller (v30.63.1620.3)
Marvell AVASTAR Bluetooth Radio Adapter (v15.68.9048.83)
Marvell AVASTAR Wireless-AC Network Controller (v15.68.9048.83)
Maxim Power Meter (v100.0.1.1)
Surface Accessory Firmware Update (v1.1.382.0)
Surface Button (v1.1.662.0)
Surface Digitizer Integration (v2.0.0.0)
Surface Pen (v1.1.352.0)
Surface Pen Click Filter (v2.0.1.0)
Surface Pen Settings (v12.0.307.0)
Surface Pen Integration (v1.1.359.0)
Surface Pen Pairing (v1.0.56.0)
Surface Integration Service Device (v1.0.146.0)
Surface Software Servicing (v3.0.10.0)