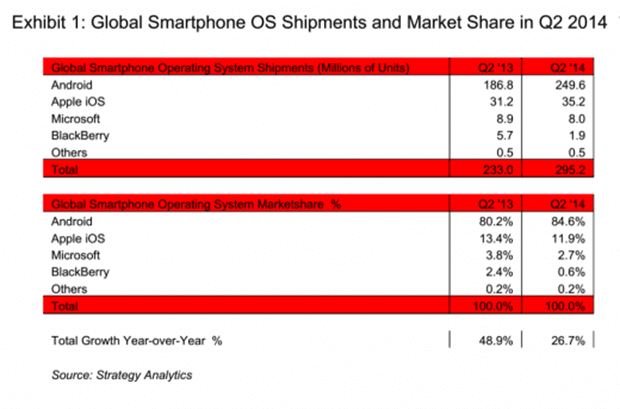 While Q2 2014 was not quite as disastrous as we were briefly led to believe it was certainly not a great quarter for Windows Phone.
Analyst company Strategy Analytics have posted their estimate for smartphone sales by OS in Q2 2014, and have awarded 8 million shipments to Windows Phone, down from 8.9 million in Q2 2013.
This drop in sales has dropped Windows Phone from an already marginal 3.8% market share to only 2.7%.
Q1 and Q2 2014 were certainly pretty fallow quarters for Windows Phone, and in the context of Nokia's mobile division being transitioned to Microsoft and all kinds of shenanigans by Nokia with their Android line and lack of significant launches then it is certainly not surprising that sales were to suffer.
We can already see some sign of recovery however in recent Kantar data from June, and with quite a few devices rumoured to be coming in Q3 2014 we will hopefully see a good recovery this quarter.
via TNW.