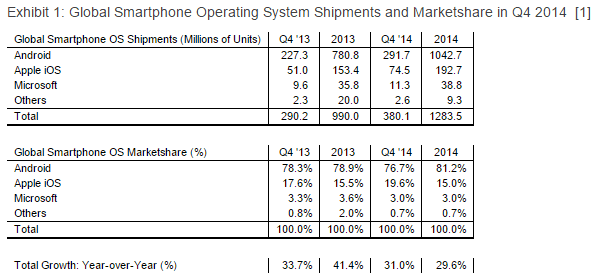 Strategy Analytics has awarded Microsoft 11.3 million Windows Phones shipped in Q4 2014, for a total of 38.8 million handsets shipped for 2014.
This gives Microsoft a 3% market share in Q4 2014 and also for the whole year, down from 3.3% in Q4 2013.
In total more than 1283 billion smartphones were shipped, with more than a billion of those devices running Android.
Linda Sui, Director at Strategy Analytics, said, "Global smartphone shipments grew 30 percent annually from 1.0 billion units in 2013 to a record 1.3 billion in 2014. Emerging markets, such as China and Indonesia, drove the industry's growth last year and they will continue to do so through 2015."
Neil Mawston, Executive Director at Strategy Analytics, added, "Android shipped 1.0 billion smartphones worldwide in 2014, rising from 0.8 billion units in 2013. Android has become the first ever smartphone operating system to ship more than 1 billion units in a single year. Android accounted for a huge 81 percent share of all smartphones shipped globally in 2014, and Apple iOS remains its only serious threat for now. Apple iOS shipped 192.7 million smartphones worldwide in 2014, capturing 15 percent share. The new iPhone 6 and 6 Plus models have recently re-energized Apple's growth and their bigger-screen designs have swiftly gained traction among wealthy consumers."
Woody Oh, Director at Strategy Analytics, added, "Microsoft shipped 38.8 million smartphones for a relatively niche 3 percent market share worldwide in 2014. Microsoft's Windows platform dominates PCs, but it continues to struggle in smartphones. Microsoft still lacks multiple major hardware partners to build its phones, while Microsoft's retail presence in important countries like China remains tiny."
If there is one silver lining to the report, it is that the total of the 2013 and 2014 Windows Phone shipments, which as 2 years of shipments is a good proxy for the installed base for the OS, totals to 74.6 million handsets, which is certainly a considerable number, and hopefully enough to keep devs interested.
Microsoft's struggle in 2015 will simply be to retain its current market share. Do our readers see Microsoft turning things around? Let us know below.