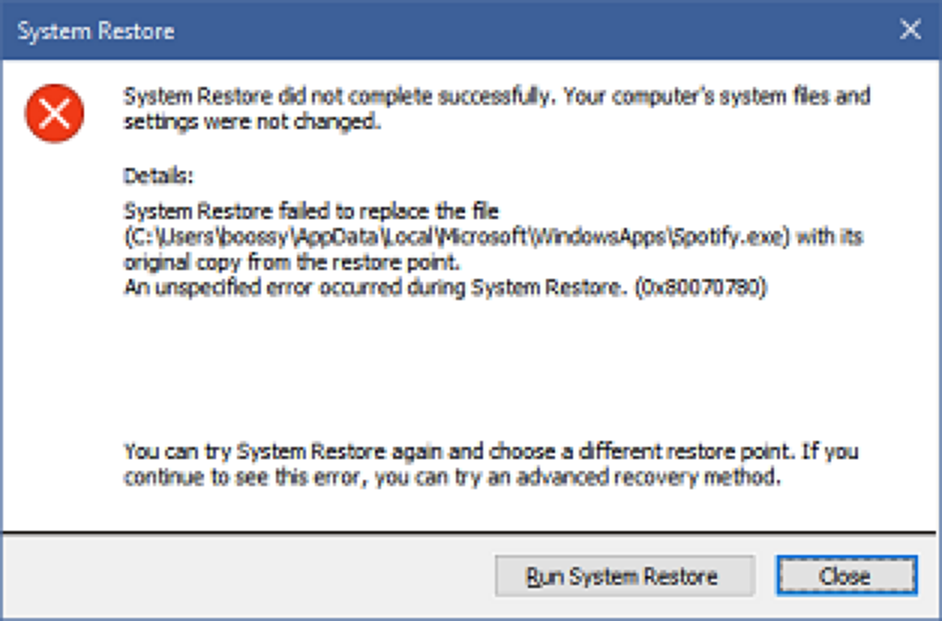 One of the main reasons to choose Windows Store apps over the same version of the app downloaded from the company's website is that those apps are meant to be safer and not interfere with the operation of your PC.
Unfortunately, this does not appear to be the case with the Spotify app, with numerous users complaining that the Store version of the app creates invalid System Restore points, making all points created while the app is installed useless, with the error:
System Restore failed to replace the file

(C:\Users\XXXX\Appdata\Local\Microsoft\WindowsApps\Spotify.exe with its original copy from the restore point)

An unspecified error occurred during System Restore. (0x80070780)
There is an active thread on Microsoft Answers, dating to December 2017, discussing the issue, and it appears despite much advice, including using Powershell, no suggestion has so far solved the issue.
Store apps are of course not meant to mess up your PC, but the dirty secret of many Centennial apps is that the apps are full-trust applications and are not virtualized or sandboxed in any way, meaning they can do just about anything an app installed from the web can do, including clearly mess up your restore points.
Given how popular the Spotify app is Microsoft clearly needs to address this specific issue, but there is also the bigger issue of misinforming users regarding the safety of Centennial apps that Microsoft is unlikely to admit to in the near future.
Thanks, MrElectrifyer for the tip.