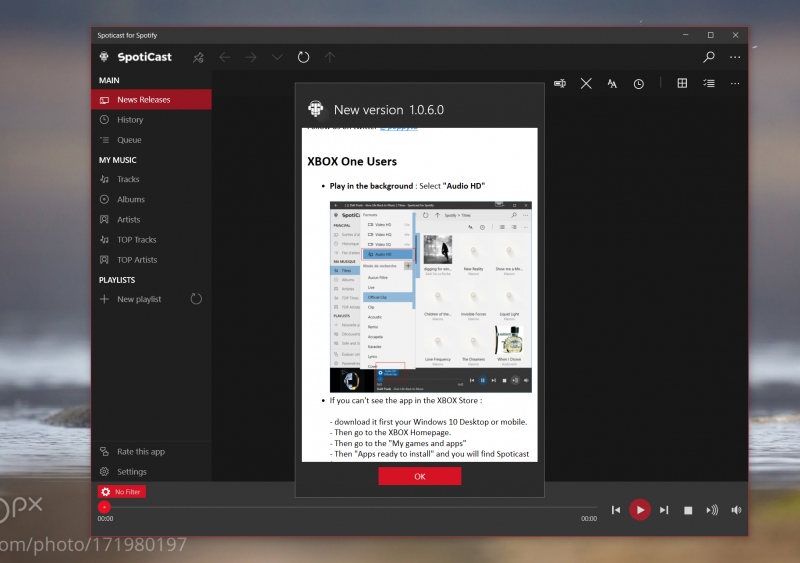 Interested in using Spotify on your Xbox? Well, you can now – sort of – with the new Spoticast for Windows 10. The app which launched earlier on the Windows 10 store for PCs and phones months ago, is now available on the Xbox with background play in tow.
The app, which simply pulls its audio stream for music from YouTube, is an ok app on PCs, more useful on phones, and adequate on Xbox. Due to being a UWP app and not a native Xbox app, it doesn't take advantage of the Xbox's navigation paradigms yet and is somewhat clunky to navigate. In addition to this, because the app isn't a Spotify client and pulls from YouTube, some audio streams may inadvertently be covers or lower quality streams that would be expected if one were to be using the native Spotify app on supported platforms.
However, as they say, half bread is better than none. Being able to access your Spotify playlists while gaming is surely better than not having the option at all right?
Here's what the app provides:
 A Spotify client Universal app (Desktop-Tablet-Smartphone)
No need for a Spotify Premium account
 You can cast on on your  TV with your protocol of choice : Chromecast, DLNA, AirPlay (AppleTV), Miracast, Smart TV, Internet Box, etc.
 Create and manage your Spotify playlists here, changes sync and reflect in the Spotify apps on Windows, iOS and Android
 Customise the Search Filter (live, acoustic, remix, covers …)
 360° videos handled with our application "Video 360"
No subscription : buy it once and enjoy it forever on all your devices !
You can download the app for Windows from the Store link below: