With all the hype around Surface Pro, it's easy to forget that other OEMs have also been building Windows 8 tablets with fast Intel Ivy Bridge processors. One of the best – and certainly the most competitively priced – of these devices is the Acer W700, though it's had its fair share of issues since launch. It was delayed, it was (and still is) experiencing supply issues, and the included plastic dock is clumsy and not very portable. However, Acer has apparently started to ship a revamped keyboard case with the device, as posters on Acer's support forums have noted.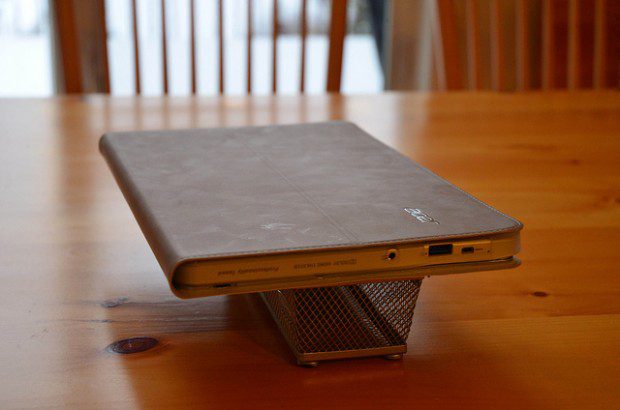 The new keyboard case consists of three parts: a microfiber sleeve to which a silicon case and the keyboard – which connects over Bluetooth and can be charged with an included microUSB cable – are glued. Inserting and removing the W700 from the silicon case certainly isn't as effortless as the keyboard cover solution Microsoft is pushing with Surface, but the case still appears to be quite flexible: besides closing like a book and opening in kickstand mode, it's also possible to lay the tablet part over the keyboard part (as seen on this picture) to hide the keyboard without exposing it on the back.
Strangely, Acer hasn't mentioned the new keyboard case on its website or in any press release, even though it represents a clear improvement over what was previously included (check out reviews from Ars Technica and Engadget for more on that). We'd guess that Acer is saving their marketing for the W700 successor, which will be only 10mm thin and 800g light thanks to a new 7W Ivy Bridge CPU and come bundled with the new case.
The best thing to do if you want this keyboard case, for now, is to wait, as most Acer W700 models still seem to ship with the old docking solution and a successor is already on the horizon. If you already have the device and live in Australia, however, you can get the case separately from the Acer Store. Two video demonstrations after the break.
The video below is in Korean, but very thorough so it should give you a good idea of the case even without understanding what is said.
Sources: Acer Support Community thread, thehappyboy (Flickr)