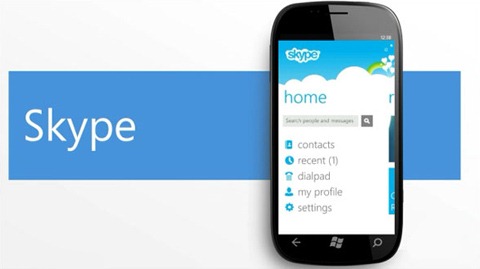 In a recent interview with Forbes, Skype VP/GM of products and marketing Neil Stevens, said that if done right, Skype experience in Windows Phone will show the power of communication in mobile scenario. He cited reasons why its not possible with iOS or Android devices. He hates Skype as an app, rather he wants Skype to be deeply integrated into OS to provide native experience.
"A Windows Phone app, if done well, can show people what a really great Skype experience is like when there are no hardware or vendor limitations," says Stevens.
Skype runs into those very limitations when developing for Apple's iOS operating system or Android, according to Stevens. Apple, for example, doesn't let Skype touch the iPhone's video processor or address book. Google allows the latter, but not the former. "We're disadvantaged against [Apple's video-chat service] FaceTime because of this closed environment,"
He said that Skype will be integrated into no. of Microsoft products like Windows 8, Lync, Xbox, etc. Although Skype-Microsoft deal is not done yet because of pending EU approval, they have begun the product planning. He also added more info on the Facebook partnership where Skype will develop no.of products together in the future including the ability to call mobile, landline right inside Facebook.
Read the full interview at Forbes
Via: liveside
Posted from WordPress for Windows Phone