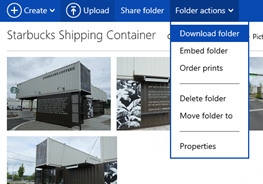 Microsoft has announced a massive update to SkyDrive, bringing the user interface of the Windows 8 app to the website.
The new SkyDrive features the new, modern design for desktop and tablet browsers with instant search, contextual toolbar, thumbnail multi-select, drag-and-drop organization, and HTML5 sorting. Pictures are now finally sorted from newest to oldest and users can specify the sort order for any folder.
Microsoft also sped up synching from the desktop to the website and reduced the CPU load on your PC when looking for changes.
Microsoft also updated the API for 3rd party developers, removing the restriction on file types uploaded, and also now allows the uploading of full-resolution pictures.
Lastly the company is also releasing an app for Android phones.
Read about the update in a lot more detail at Microsoft here.