News is rolling in of new features in Microsoft's SkyDrive, which will form an integral part of Windows 8 and probably Windows Phone 8 also.
The main features which would be of interest is the increase in file size that can be uploaded to 300 MB, up from 100 MB at present. 
Further useful changes include URL shortening using the sdrv.ms domain, and direct sharing to twitter and other services like Weibo from the web interface.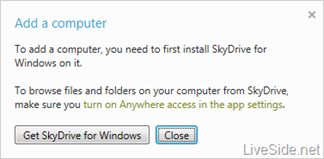 Also of interest to Windows Phone users is the new capability to access files on your desktop after installing the native SkyDrive for Windows app which was recently discovered.
The app will allow users to access files from a remote web browser that reside on your desktop at home, previously a feature of Live Mesh, and potentially very powerful if it integrates deeply.  One can imagine for example being able to stream media fro your PC at home while being out and about on the other side of the world.
Other features leaked by LiveSide.net include increased support for OpenDocument Formats by SkyDrive's Office Web Apps and the ability to backup your bitlocker keys to SkyDrive, where it can be retrieved using 2 factor authentication.
The service is shaping up pretty nicely, and it seems to be all that is needed is native support for SkyDrive by the Zune Media player for the service to becoming very useful indeed.
Read more at LiveSide here.