If Microsoft is going to tempt Windows Phone users back with its Windows 10 Update, its going to need to grab users on the very oldest devices yet.  According to AdDuplex's stats circulated today, 6 out of the top ten Windows Phones in use are older devices, with the Lumia 520 of 2013 taking the lead and the 2012 Lumia 920 still the most used Windows Phone flagship device.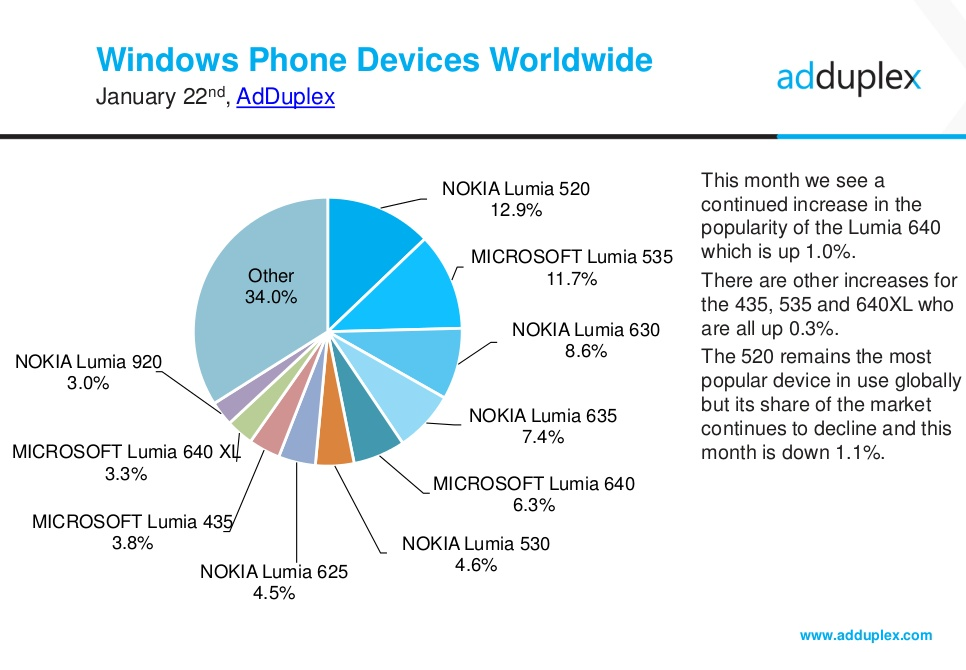 On the positive side, this shows that the older and first generation Windows Phones had quite a bit of value to still be driving users in 2016. That's not too bad for phones which were on the low-end of the spec tables when they launched initially and are now far behind modern technology. It also reinforces my thoughts that the Lumia 920 was a pretty good phone upon launch.
On the other hand, this shows just how thoroughly the market rejected Windows Phones after 2013. Aside from the Lumia 520, no other Windows Phone has sold up to 20 million devices. No flagships, no low-end devices, no mid-rangers. In fact, even Microsoft's cheap as chips Lumia 435 that sol for £5 in the UK several times has not gotten much traction in comparison. To drive that in, an average bus ticket in London costs £1.50, so the Lumia 435 cost less than 4 bus rides and still didn't sell more than its expensive siblings. Unfortunately, as much as this is an unpleasant situation for Windows Phone fans, Microsoft thoroughly deserves the trashing they received from the market. Smartphones are hard to get right, and perhaps pandering to your fanbase is a stupid thing to do when your fanbase is just 1.7%, but they always seemed to choose the worst possible move at the worst possible time. They were slow to realise that they were in danger, slower still to react to that danger and yet even slower to react to the damage that their opponents kept on dealing them. Hindsight is 20/20, but anyone with foresight saw it coming.
Microsoft's Windows Phone as it exists now is dead and unsustainable, the company has already moved on, and the surface phone (surfacephone.com) may be something, or it may be nothing. We'll cross that bridge when we get there.
Other AdDuplex stats are the same thing they were last month. The Lumia 640 is getting some small sales boost in some countries and other OEMs are still reducible to rounding errors. The only thing interesting is that Windows 10 Mobile is now available on nearly 10% of active Windows Phones, the total of which is either 10 million if Microsoft has 1 million active Windows 10 Mobile devices, or about 50-60 million if our math works out. This number would be more if Microsoft had successfully managed to deploy Windows 10 Mobile in October November, December January 2016 as carriers indicated, but they ran into issues revolving around QC, which is admittedly good for users of older devices but shameful considering Microsoft announced Windows 10 in September 2014 and presented their mobile SKU the following January.
AdDuplex stats will be available in full at their blog here tomorrow.