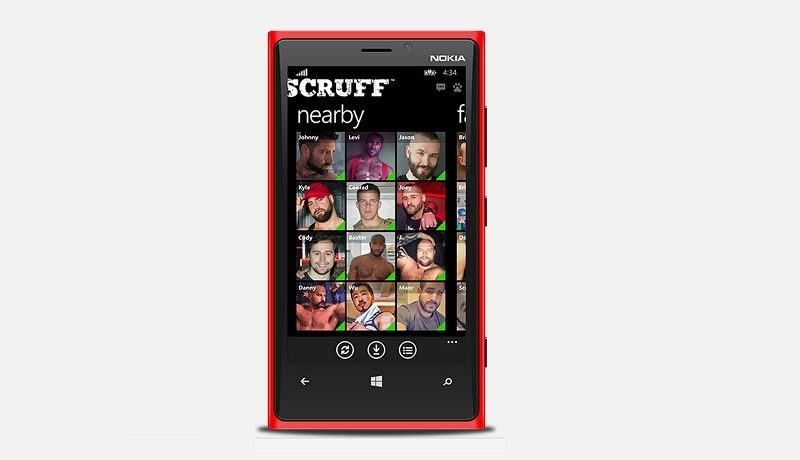 After more than a year of no updates, Scuff has just published a big update to their gay dating app for Windows Phone.
New in the app:
All-new for Windows Phone 8.1
As the #1 gay app on Windows Phone, SCRUFF leads the way with its feature set and design to bring you an authentic Windows Phone experience. SCRUFF 4 has been updated to work naturally the Windows Phone system, including support for pinnable profiles.
More messages, more albums, more guys
SCRUFF 4 for Windows Phone introduces SCRUFF Pro, our premium subscription service. With SCRUFF Pro, you unlock more than a dozen benefits, including unlimited messaging and message history, unlimited album shares, and up to 300 guys nearby with unlimited search and filters.
Find exactly what you like
We know that some guys are particular about what they are looking for, whether it's a guy with a face pic open to dating, a guy 28 to 48 years old, or only very hairy guys 90 kg or more. SCRUFF Pro subscribers can add as many filters as they like to their nearby grid to find exactly the guys they're into.
Connect with guys like you
Interests and identities are diverse, and that's why SCRUFF is the only app on Windows Phone to bring you more than a dozen different communities that you can identify with or be into. Whether you are a Jock into Daddies or a Bear into Bear Chasers, SCRUFF lets you find the guys you are into faster.
Navigate faster with swipe
To save your thumb from blisters, we've instituted swipe-to-browse as you navigate profiles. Instead of navigating from the grid to a profile and back, you simply swipe left or right to browse new profiles.
Voice-activated SCRUFF
SCRUFF connects to Cortana, the next-generation assistant on Windows Phone. You can ask Cortana to show you guys nearby, or view your messages or woofs, no taps required.
"We're excited to expand on the Windows platform, and reaffirm our position as the #1 gay app for Windows Phone" says CEO Eric Silverberg. "We have plans to bring SCRUFF to the Windows desktop this year, which will expand our presence to the more than 400M Windows users worldwide."
Download the newly updated app from the Windows Phone Store here.