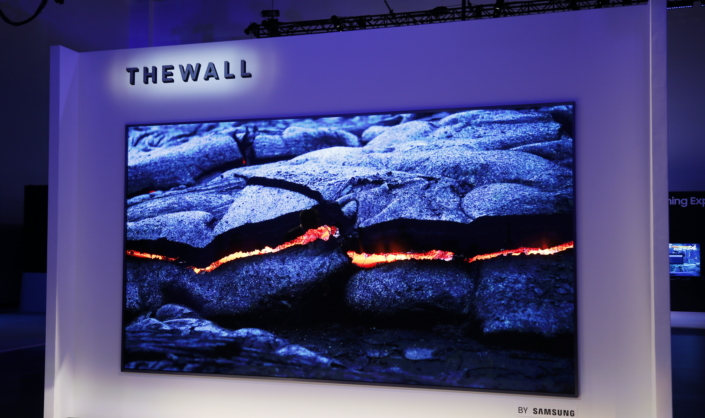 In 2017, Samsung's TV division lost its technology leadership as its high-end QLED TVs clearly didn't live up to their expectations when compared to LG's OLED TVs. Samsung is trying to fix it in 2018 and coming years by two different solutions.
In short term, they are going to released improved QLED TVs with new technology improvements that will lead to new peak brightness (over 2000 nits), full-array local dimming (FALD), direct backlighting for improved black levels, etc,. They are also using AI software to decrease halo effects. As a result, 2018 QLED TVs will be a lot closer to LG's OLED lineup.
In long term, Samsung is going with a new display technology called MicroLED that will help it leapfrog OLED technology altogether. Yes, Samsung will not release any OLED TV anytime soon. Instead, they will release new MicroLED based TVs starting with late 2018.
MicroLED TVs are based on self-emitting technology similar to OLED TVs, and each chip incorporates RGB color. As a result, there is no need for color filters altogether and can deliver up to 2000 nits of peak brightness (almost double that of OLED TVs), brighter white hues, darker black shades and the truest natural colors.
Also, the MicroLED screen excels in durability and effectiveness, including luminous efficiency when compared to OLED TVs. To demonstrate this, Samsung today introduced "The Wall" – the world's first consumer modular MicroLED 146-inch TV.
To improve the viewing experience on large-sized TVs with 8K resolution, Samsung has developed an AI technology that upscales standard definition content to 8K resolution. It uses a proprietary algorithm to adjust screen resolution based on picture quality characteristics of each scene, to continuously improve picture quality and easily transform any type of content from any source into a high-resolution 8K.
"At Samsung, we are dedicated to providing consumers with a wide range of cutting-edge screen experiences," said Jonghee Han, President of Visual Display Business at Samsung Electronics. "As the world's first consumer modular MicroLED television, 'The Wall' represents another breakthrough. It can transform into any size, and delivers incredible brightness, color gamut, color volume and black levels. We're excited about this next step along our roadmap to the future of screen technology, and the remarkable viewing experience it offers to consumers."
If you were waiting to upgrade your current LED/LCD to a latest OLED TV, I would suggest you to wait till end of 2018 to check out the new MicroLED TVs and make the decision.
Source: Samsung