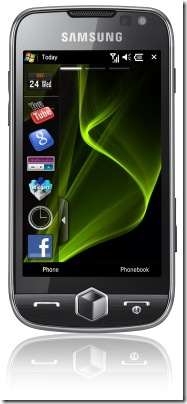 Lithuanian website Mobili Linija has pictures and specs of what they are calling the Samsung Omnia II.  The device, also apparently called the Samsung GT8000 is pretty well specced, with a 3.7 inch AMOLED WVGA screen, 8.1 megapixel camera (the new high-end standard?) with Dual LED flash, WIFI, GPS and the other usual gubbins a powerful Windows Mobile phone should have.
The device apparently runs Samsung's new Cubic interface and features DIVX compatibility, DNLA and is still powered by Windows Mobile 6.1.
The 11.9 mm device is expect to be unveiled soon, and arrive sometime in the next 3 months.
Via PhoneArena.com