The Lumia 1520 is a phone you better put a screen protector on. Because of its size, the pocket you put it in will rub very tightly against the screen and cause it to scratch – I have made that experience personally. Now, casual screen protectors can be very annoying. Not only are they sometimes not applicable without having bubbles but also is there in 99.9% of all cases somewhere dust underneath.
On the world wide web I have found something new; something, which is said to be very innovative. It is even said it is being used by a British pilot on his airplanes, and for only €9 I thought I might give it a try. The Crystalusion Liquid Scren Protection. I am no chemic so I do not know what exactly this liquid is, but from what I have understood it is something as a liquid glass you apply to your phone.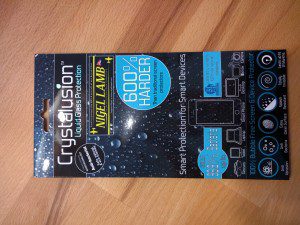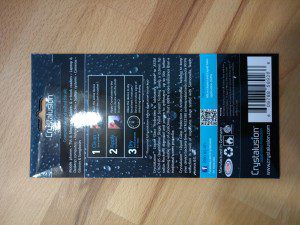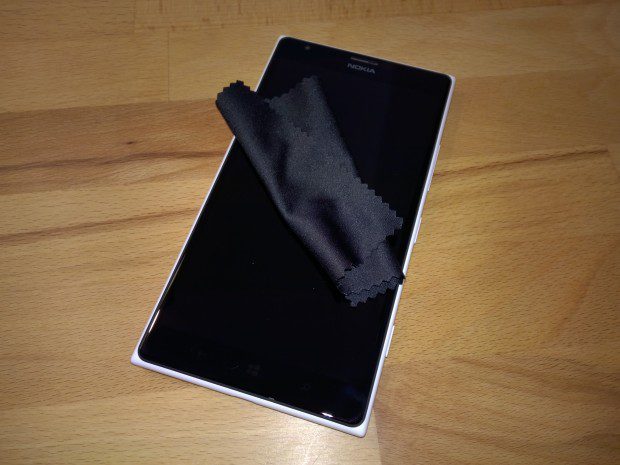 Application is very easy. First you dry clean your entire phone. Then you clean your whole device with the microfiber cloth in the first bag until the cloth is completely dry. It smells like pure alcohol and if you react sensitively to strong smells I recommend using a mask. Afterwards you apply the liquid in the second bag –  againto your whole device and until the cloth is completely dry. "Whole device" should really be pointed out and means the front AND the back of your phone – the manual says so. However, you really should be very carful using liquids on your phone – once in the wrong hole it may hurt very badly 😉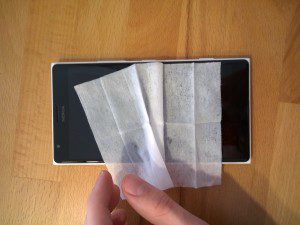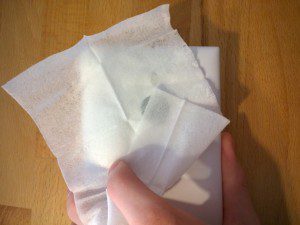 Then you let it dry. At least five minutes until you can very carefully use your phone, but it will take up to 12 hours for the liquid to get completely dry. Then you dry clean it again. It is really easy as that.
I checked the next day and there is absolutely nothing visible. The liquid is said to be using Nano coating so its not only protective against scratches but also grease and water resistant. This does not mean it will make your phone waterproofed! Ii is super thin, but can be felt as the phone feels a little different – a little bit glossier – now. Also it does fill smaller scratches. It will not get scratches out of your phone, especially not deeper ones, but small scratches on the display glass seem to be invisible now. Whether it really protects my phone from being scratched in my pocket only a long term test will show – and of course I will post it here – but on first sight there clearly is something on my phone, and I feel less uncomfortable laying my phone without a cover on a flat surface, because the camera, which always got scratched a little bit, is also covered by Crystalusion Liquid Glass protection, and from what I can say for now, it seems to be doing a good job. Additionally to this, it is totally environmental friendly, which is always a good thing, and antibacterial.
You can get it here for $9.49, or €8.99, depending on your region (which you can change in the upper right corner).