Is Copilot the best AI companion out there? Help us find out by answering a couple of quick questions!
Good headphones are now a dime a dozen, but how many are actually designed to control Windows Phone? Not that many are available for all three big platforms, and in fact there may be only one.
The a-Jays Five are available in three versions: one for Android, one for iOS and one for Windows Phone. Thanks to Peter at Jays, who also gave us the five pieces we gave away in the contest, I was able to test the Windows Phone version.
The package
I was surprised by how small the package is – and how nice it looks and feels. The slim package is covered with a soft touch surface and is pretty heavy for what is inside. Opening it was very easy; you simply need to pull the stripe on one end. After you opened it you will see another box which needs to be pulled out – which is not the easiest thing when you don't want to damage the box. After you finally got the box out of the package and you take away the manual from the top you will see this: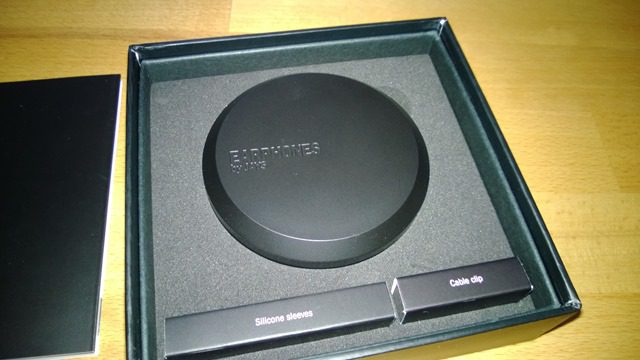 There are several silicone sleeves available; one for each ear size. Then there is also the cable clip which lets you fix the earphones on your clothes so they don't move e.g. when jogging or riding a bike (or simply when walking, of course).
Inside the round case are the meticulously wrapped earphones.
Everything is very high quality: From the package itself to the silicon sleeves. Everything looks and feels vey nice and the materials are chosen carefully which make everything feel very premium, but more on this in the next section.
Built quality
Often forgotten but still very important for headphones is the built quality. Cheap headphones mostly fell so and break very quickly. I don't own the a-Jays Five long enough to say something about the longevity, but the built quality is superb. The headphones themselves are made of a nice feeling rubber and aluminum. The silicone sleeves are made of silicone, of course, and are flexible enough to cling on your ear but not too flexible so they fall out.
The extra wide cable of the earphones have one big advantage: The cannot knot or tangle. But they also have a big disadvantage which is the flexibility. The cables are a little bit stiff when they are worn which is a bit disturbing when walking. Sometimes when the cable is taut the earplugs fall out.
The remote is made of normal plastic (I think) but that does not mean it is bad. The pressure point of the buttons is very nice and thanks to their shape you can feel them even without looking at the remote. Unlike on my old Nokia Purity headphones I don't need to press the pause button twice until something happens. The remote looks like a Lumia 800 which is great because it fits with most Windows Phones which are Lumias.
Sound
Of course this is the most important section. I can tell you directly at the outset: These headphones sound great! In my opinion they have a bit too little bass, which even the equalizer cannot improve, but this is only a small thing. Overall the sound is very nice as highs and mids have perfect values. Everything is very balanced and even smallest details are audible. When you listen to music with many highs, e.g. some electronic music there is absolutely nothing to complain about! Music like pop or rock also sounds great but songs with many bass, especially HipHop sometimes sound a little bit boring due to the lack of some bass. However, this is something subjective and there are sure many people who prefer a smaller amount of bass.
What I listen to is mostly rock and pop in direction of electro and here the headphones show what they are capable off. My Nokia Purity headphones already sounded great but the a-Jays Five are something different – and they cost less than what the Purities did when they came out.
The volume can be set very high and on 25 they are already too loud, at least for me. Anyways, since the earphones fill your ear canal very nicely a high volume is not needed, not even outside.
After all the praise I also need to criticize something: Dolby Surround, which is available on Lumia devices, should stay turned off. It was a feature I enjoyed using with my Purities but on the Jays music sounds just awful when you turn it on. I really liked the spatial sound but with the Jays you only get music which sounds like 90kb/s mush.
Apropos 90kb/s mush: If you are listening to 90kb/s YouTube rips you can totally forget these headphones. Everything less than 124 kb/s does not make sense and sounds just awful, which is normal for high end earphones. I am getting my music from Nokia Mix Radio+ and Xbox Music so I tested the headphones with high quality music.
Other
The cable clip coming with the headphones is a very nice idea! You attach the clip on the cable and on your shirt and do not need to worry that they will fall out your ears anymore. They could stick on the shirt a little better as the clip sometimes falls of but when you wear something thicker like a jacket it holds better and then it really make sense.
Inside the round case for the headphones there is a cable winder which is a nice idea, too, but it is not implemented very well. Wrapping the headphones takes very long and I do not think it is good for the headphones to be wrapped like this, so better take out the winder and put the headphones in the case without it.
I am honestly surprised by how great these headphones actually are. I expected them to be nice but I did not expect them to be better than the headphones I paid 130€ for when they came out considering they cost "only" 90€. The price is not the cheapest but the a-Jays Five are absolutely worth it! They are available in black and white for Windows Phone, iOS and Android here.
Thanks again to Peter at Jays in Sweden!