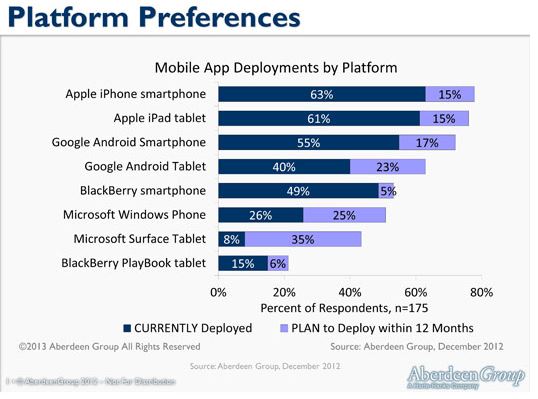 We have seen lots of reports on developers interest in Windows Phone platform gaining momentum. The upcoming report on Enterprise mobile app deployments by Aberdeen Group was revealed by CIO.com recently. Apple's iPhone and iPad dominated the current deployment numbers followed by Android. Only 26% had Windows Phone apps deployed and 8% had Windows 8/Microsoft Surface apps deployed. But future seems to be bright for Microsoft's Windows and Windows Phone platform.
Of the total surveyed 348 organizations,  35 percent of respondents are planning to develop apps on the Surface tablet/Windows 8 over the next 12 months and 25 percent planning to develop apps on Windows Phone. If notice the above chart, both the Microsoft platforms are on top of the chart in CIOs list.
Aberdeen research director Andrew Borg says the following on strong interest on Microsoft platforms,
"The data shows that IT is holding out hope that Microsoft's mobile strategy will be well-integrated with their overall data center and cloud strategy," Borg says. "You might say IT has been waiting for Microsoft to make its enterprise mobile play."
Read more at the source link below.
Source: CIO