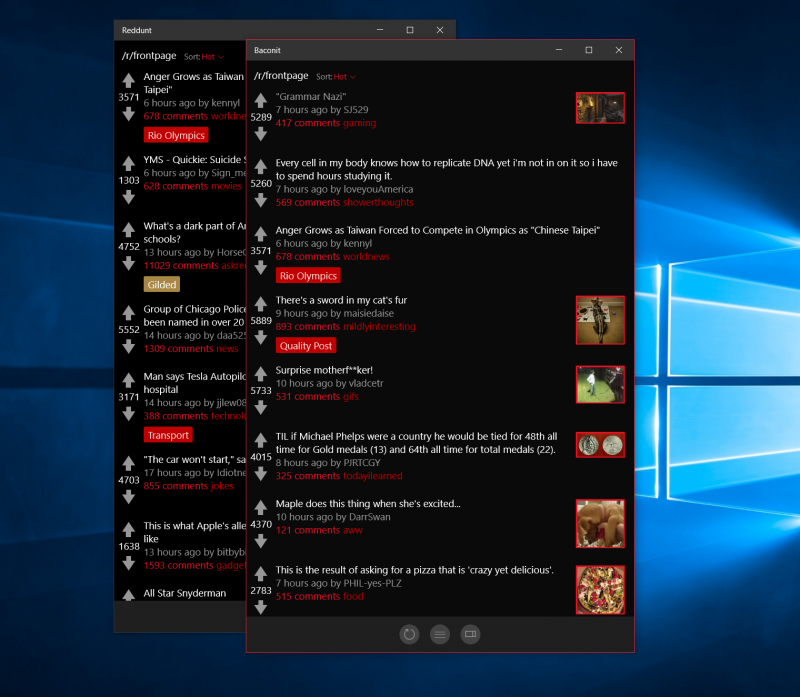 Windows 10 may not have an official Reddit app like it does on iOS and Android, but it has a thriving ecosystem of third-party Reddit apps which surpass the official Reddit app in terms of usability. Now, for Widows users who can't get enough Reddit, there's a new third party app based on a third-party Windows app.
Reddunt for Windows 10 is the Baconit clone question, and it's pretty much just a fork of Baconit so far. What this means is that it has all of Baconit's goodness with a few improvements like fullscreen mode for immersive viewimg, feedback hub integration and a redesigned app bar.
As it stands now, it doesn't have much over Baconit, but the developer plans to implement the ability to continue app experiences and universal dismiss across device – both features Baconit doesn't currently have. As the development of Baconit slows down, users are more likely to look for alternatives to the app, and a Baconit fork seems like the best compromise.
To be honest, if you're a Windows 10 users and a Reddit Poweruser, you'll most likely be using Readit for Windows. However Baconit – and by extension Reddunt, is a much lighter app. With the developer of Baconit open sourcing his app, we may see more and more Reddunt like apps which improve on functionality in the coming months.
Download Reddunt for Windows from the source link below: