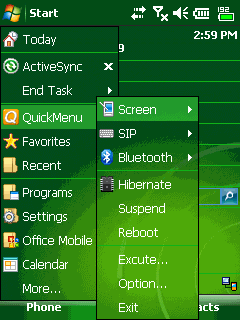 The Windows Mobile Start Menu is a pretty reasonable task switcher and launcher, but can only go so far.  Quickmenu 2.8 takes the start menu concept much further than its ever gone.  Concentrating more on task switching than app launching, it keeps a list of your running apps easily accessible.  It will however also allow you to browse your whole program folder and launch apps from there, all without leaving the start menu interface.
Quickmenu is also very fast, as it caches the icons of applications, meaning its free from that annoying pause you see on the built-in start menu after a soft reset.
But wait- there's more! You can also access all the settings items in the control panel directly from the start menu, and even better activate Bluetooth and WIFI directly from the interface.
The app is very customizable, allowing all the menus to be re-arranged, and even the space between lines to be changes to emulate HTC's Large Start Menu.
The app can be downloaded from this xda-developers thread here.