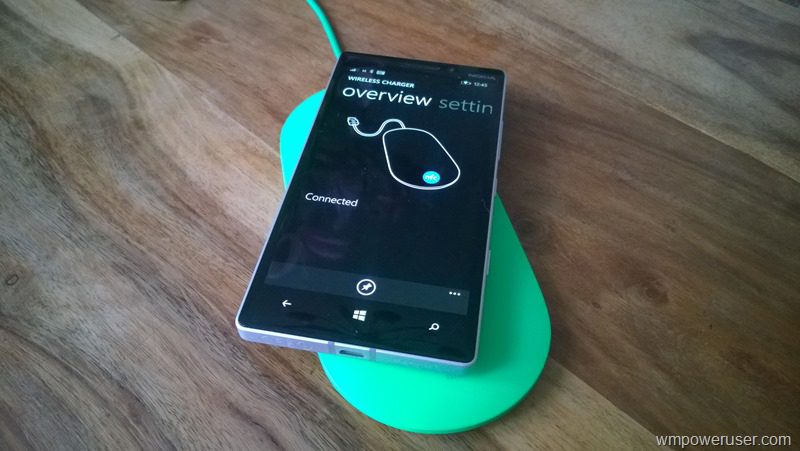 I have been lucky enough to be using the Nokia Wireless Charging Plate DT-903 for quite a few weeks now, and now with greater availability of the accessory felt a review would be in order.
The plate is available in neon green, orange or white and features a sculpted design to emphasize the coloured LED lights under the skirting, which matches the colour of the plate, a very large charging area and a 150 cm (5 foot) charging cable which ends in a USB port meaning you are free to position the device almost anywhere on your desk.
The plate features Bluetooth LE, and uses this to communicate at a distance with your phone. When your phone has less than 30% charge the plate will start to pulse slowly to remind you to charge your handset, and when you receive a notification (which can be user selected) the plate will start to pulse more rapidly, all without your phone needing to be anywhere close to the plate.
The plate is also NFC enabled, which makes pairing easy, with the device then being added to the Device Hub under Settings.
There you can select how bright the LED should be, whether you want low battery notifications, apps notifications, and have the plate automatically stop lighting up at night while you sleep.
In the headline we mentioned the device has a fatal flaw, but fortunately it is one which may be addressed by Windows 10.
When you receive a notification the device starts rapidly pulsating, and it does not stop until the notification is cleared on your phone.  When you are having a facebook messenger conversation using your desktop browser for example the charging plate will be flashing constantly even though you have already attended to the conversation on the desktop. The device needs a decay function, where old notifications would cause it to flash every 5 minutes for example, and new notification every 10 seconds.
Fortunately in Windows 10 we will be able to dismiss app notifications from the desktop, which should go some way to address the issue, but I think an update to how the device work is still in order.
The plate can be found for around £50 in the Microsoft Store in UK and $59 in the Microsoft Store in US here. It requires your phone to be running Windows Phone 8.1 Update 1.
See an unboxing of the device below.