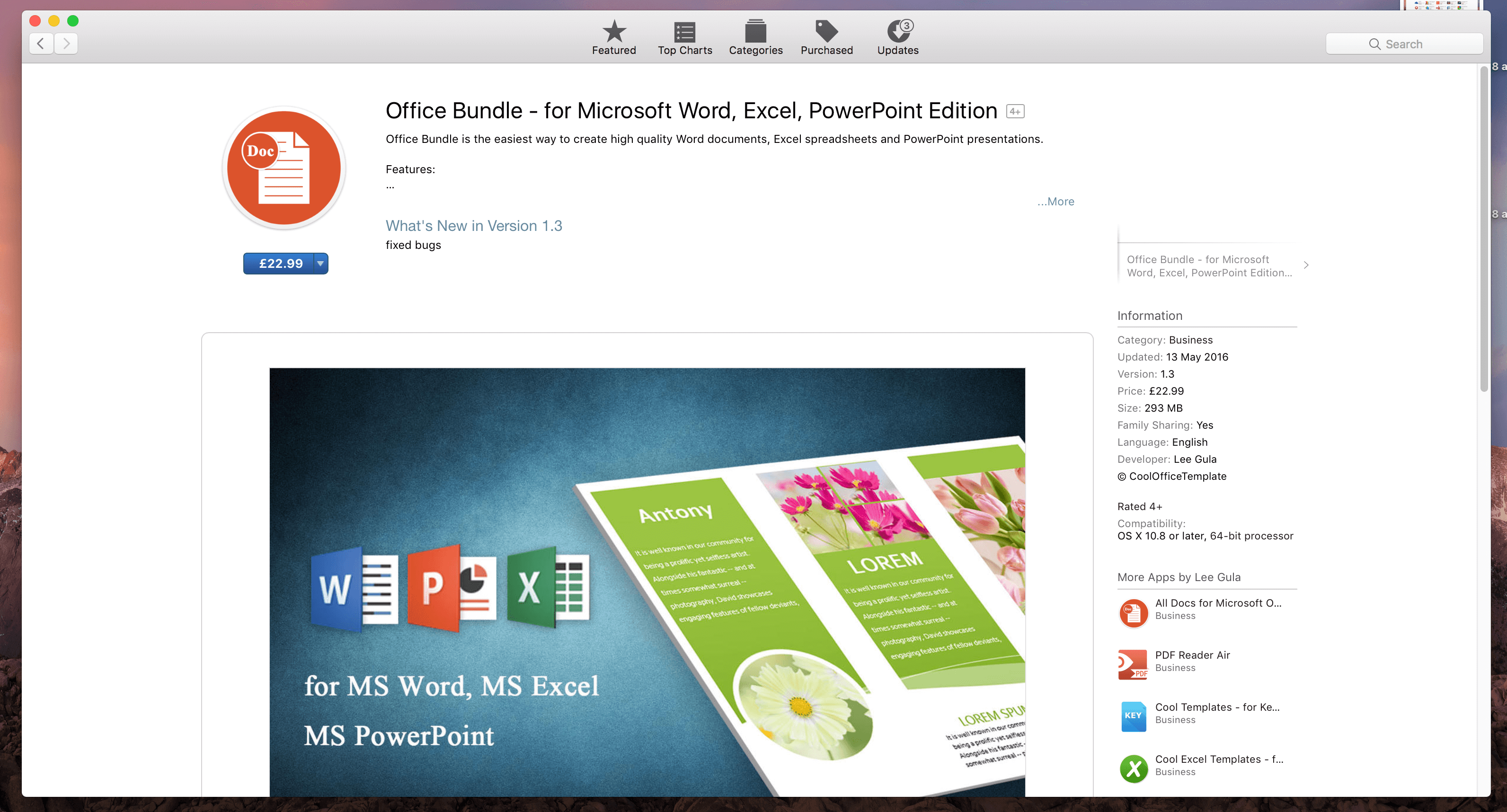 Microsoft had to deal with a lot of fake apps in the Windows Phone Store a few years ago, and the Windows Store right now still includes a few fake apps. It seems like the situation isn't any better for the App Store on macOS. As reported by the folks at HowToGeek, the Mac App Store is full of scams. The App Store has a handful of fake Office apps which will probably be able to fool the average joe. For example, there's an "Office Bundle" app which costs $30 and pretends to be the official Microsoft apps. But in reality, the app actually includes a handful of templates for Word, Excel, and PowerPoint. Yep, that's it.
Unsurprisingly enough, people are actually paying for this app expecting to get the actual Office apps for Mac. A bunch of users in the Reviews section of the app are asking for a refund, complaining that the app only provides templates for Office apps — despite the fact that the description of the app clearly states that users can "Create Word, Excel and PowerPoint documents."
This is just one example — if you take a look in the screenshots below, you'll see more than a dozen of Excel and Word look-alikes:
If you are a tech geek, you probably won't be fooled by these kind of apps but there are quite a lot of users who will fall for these apps. Keep in mind that the Mac App Store includes a lot of other fake apps, including a lot of fake Adobe apps which is really disappointing to see. To be clear, Microsoft doesn't sell the Office apps on Mac via the App Store — if you want to get Office on your Mac, you'll have to get it from the official site here.
The takeaway from all of this is that Apple really needs to fix this — the company is running the best smartphone App Store with quality apps — but on the Mac side, it's a completely different picture.  Microsoft already dealt with similar issues in the past, but the company did do a good job getting rid of most of the fake apps on the Windows Store. Sure, it took a few years for things to get better — but at the end of the day, the Windows Store includes fewer fake apps than it used to a few years ago.