Let's get this clear. Microsoft plans to release Office for Windows Mobile with the release of Windows 10 next year. Everyone knows this, its expected. Microsoft no longer plays favourites with its platform, and that's a good thing.
After all, if you want everyone to use Skype, then you better have Skype everywhere from iOS to BlackBerry 10.
In the same vein, if you want everyone to use Xbox Music, you'd better have Xbox Music available on every platform. The app better work, and it'd better be good.
Now that's all well and good, but then we turn to Windows Phone.
All of Microsoft services are present, but not as good as they are on other platforms. It's very easy to dismiss Windows fans as throwing hissy fits every time Microsoft launches something first on other platforms. But then again, just how many times has this happened?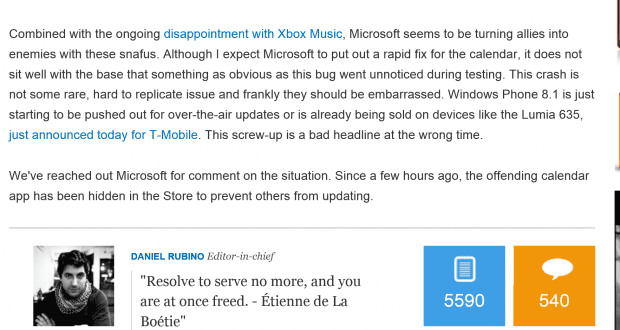 The remote desktop app, Skype. Microsoft's new Revolve(for iOS) app and now Microsoft's prized Office, with the new update for Windows Phone launching NEXT SUMMER.
The apps that we do have however, are buggy, messy and rarely updated (don't worry games hub, we think about you sometimes).
How is this important?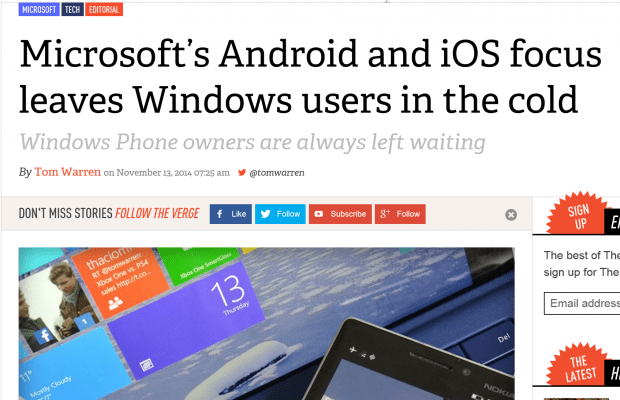 What's the point of this? I clearly don't hate Windows Phone and I'm not using any other platform. I understand what Microsoft says they are going for and how they plan to achieve it. But that's the issue here, you and I and everyone else reading this are fans who make it our business to know. People who aren't fans, people who may not be interested in the latest news, just see how their devices and apps are worse than others and they will get mad. Believe me when I say that "for the greater good" tends not to work on people more than once. Eventually people will see it as an excuse and stop believing.
I am going to be really blunt here. Microsoft has failed to deliver.
The issue with Microsoft giving Office, Skype and other apps to iOS and Android is not that they are given them their apps, it's that the equivalent apps are not the best they can be on Windows Phone. Now we all like to pile on apps like Instagram and Tumblr for not being the best they can be, alas what can we expect when Microsoft does this.
Prime examples are Xbox music, Skype and Office for piss-poor Microsoft apps.
Now, one can argue that the purpose of these apps is to draw users into the Microsoft ecosystem which will then translate into sales of hardware. That makes sense. These services are free, it makes zero business sense here with no source of revenue from them and even Microsoft's billions are not infinite.
Now then, what happens when these consumers decide to try Microsoft's own OS for a better experience?
They can't use a touch optimized office, the mobile version of office is piss poor, the media apps are crappy and Skype lacks features they might be used to.
What then?
What would be the result then?
" it is very sad that our products are better on other platforms than they are on our own. It annoys me" tweeted  a Microsoft employee, he went on further to say, "ok, enlighten me then. when you're a software company how does giving software away, for free, to the competitor make you money?"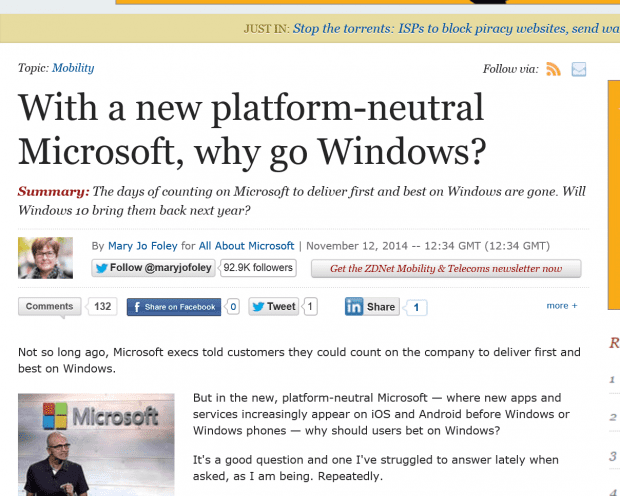 If platform limitations are the issue, then Microsoft is even more at fault since they build the platform. It's all on them. This whole debacle with Office, Skype, Xbox Music reeks of poor planning and coordination.
The mantra remains for users as always. Wait for it. Something big will be coming. Wait. Wait. Wait. Soon. Mango, Apollo, Blue, Threshold. When will Microsoft go all in?
Forget marketshare, imagine Apple releasing Facetime for Android and Windows because it was ready and they had more marketshare. Imagine iTunes for Mac going to crap because there are more Windows users anyway.
If Microsoft can treat its own platform like crap and feed them with buggy apps, what impression does this give devs? That Windows Phone users don't care about app quality?
Clearly Instagram doesn't;t care that its a Beta, if we can wndure Lumia Storyteller Beta and Xbox Beta Music, why should they give a damn?
You can price 10 million people into buying your cheap devices over and over again, but those 10 million individuals will not buy a Windows Phone for their next device if they hate it. Neither will their friends. Windows Phone is routinely bashed on twitter by users, just search the term and watch the magic happen. "I really hate my windows phone shit is so garbage…" tweets one user, another opinea "I hate my #HTC #WindowsPhone with all of my heart. Every day it takes all the strength I have to not smash it into a million pieces."
That's the reality. People don't care about one year later, they care about right now."
If this goes on, it won't end well. Microsoft will keep piling up negatives against using their platform. When /Build/ comes, will they be able to turn their reputation around or will they find that they have ignited their own platform and sent users running for the hills?