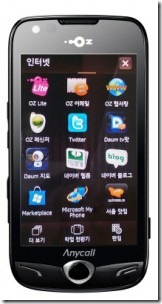 Korea is the home town of Samsung, which must explain why there are so many versions of the Samsung Omnia 2 there.
Another version has just shown up, the SPH-M7350 OZ Omnia, which is Korea's first Windows Mobile 6.5 Windows Phone. Other versions, such as the SK Telecom's "T Omnia II" and KT's "Show Omnia" had only received upgrades so far.
The OZ Omnia is the first version of show up on the small Korean carrier LG Telecom (no conflict of interest I am sure there) where is will be offered subsidized on a good price on contract, still unusual for Korea.
The OZ Omnia will be using a special Korean standard for internet access platform called WIPI, a feature who's lack of support has kept other international devices out of the country for quite a long time.
Read more at TelecomsKorea here.