Microsoft Outlook is an email client and personal information manager from Microsoft. It's part of the company's Office suite of productivity applications. Microsoft first launched Outlook in 1997. It arrived as a part of Microsoft Office 97. Outlook has grown and evolved over the years, with several versions along the way. It is a much different and improved product today than when it launched. Here is our complete Microsoft Outlook versions list and what changes each version brought over.
Microsoft Outlook Versions List
Outlook 97 — Outlook 97 was released on January 16th, 1997, and included with Office 97. It arrived as a replacement for Microsoft's Schedule+ and Exchange Client, and came with features like remote mail.
Outlook 98 — Outlook 98 launched on June 21, 1998. It was free of cost. It included Internet Explorer's rendering engine to view emails and other features like support for the new HTML email standard, improved setup, design, and performance.
Outlook 2000 — Outlook 2000 launched on June 27, 1999, and came with Exchange 2000 Server. In addition to the regular feature and interface tweaks, this version also came with support for Visual Basic for Applications.
Outlook 2002 — Outlook 2002 launched on May 31, 2001, and came as a part of Office XP. While it was a relatively minor upgrade, it added improvements in indexing, search, email organization, and more flexible calendar features like online schedule publishing.
Outlook 2003 — Outlook 2003 was released on November 20, 2003. It was a redesign and came as a big upgrade to the last version. Notable features included better email search and organizing, the ability to manage multiple calendars at once, and more.
Outlook 2007 — Released on January 27, 2007, Outlook 2007 was a part of Office 2007, except for the Office Home and Student editions. It was another big upgrade, and got a new design, drag-and-drop functionality for emails, color-coding with scheduling, flagging, and improved categorization.
Outlook 2010 — It was released on July 15, 2010, and included in Office 2010. This version added the improved Ribbon interface and functionality. Other key bits included simpler scheduling, multiple email accounts, conversation view, and social network integration.
Outlook 2011 for Mac — It launched on October 26, 2010, as part of Office for Mac 2011. Sharing the version number with Outlook 2010, it was pretty much just the same software, except ported over to Mac.
Outlook 2013 — Outlook 2013 launched on January 29, 2013, along with Office 2013. It came with email previews, a weather bar in Calendar, in-line replies, quick commands for better organization, inbox customization, improved contacts, and better integration.
Outlook for Mac — An iteration of Outlook 2013, this version launched on October 31, 2014, as a part of Office 365.
Outlook 2016 — Outlook 2016 was released on September 22, 2015. It came with a new design, interactive help, fast synchronization, cloud attachments, improvements to the To-do Bar, and a responsive design that worked well on tablets.
Outlook 2016 for Mac — This one launched on September 25, 2015, and was similar to Outlook 2016, except designed for Mac.
Outlook 2019 — This launched on September 24, 2018, with Office 2019 and Office 365. It brought a new focused inbox, better graphics support, multiple time zones, improved accessibility features like email text-to-speech, and more.
Outlook 2019 for Mac — Launched alongside Outlook 2019 with an identical feature set.
Microsoft 365 — The modern-day avatar of Outlook is a web version that is a part of the Microsoft 365 subscription. It comes with personalized email addresses, advanced security, encryption, an ad-free interface, 50GB of email storage, and premium support.
Outlook 2021 — Released on October 5, 2021, this is the offline version of the modern-day Outlook, available as a part of Office 2021 on Windows and Mac. There's also an LTSC 2021 version, which comes with a perpetual license but misses out on some features.
Outlook for Phones & Tablets — The mobile version of Outlook, which has been available on iOS and Android since 2015 as a part of Office 365.
Which versions of Outlook are no longer supported?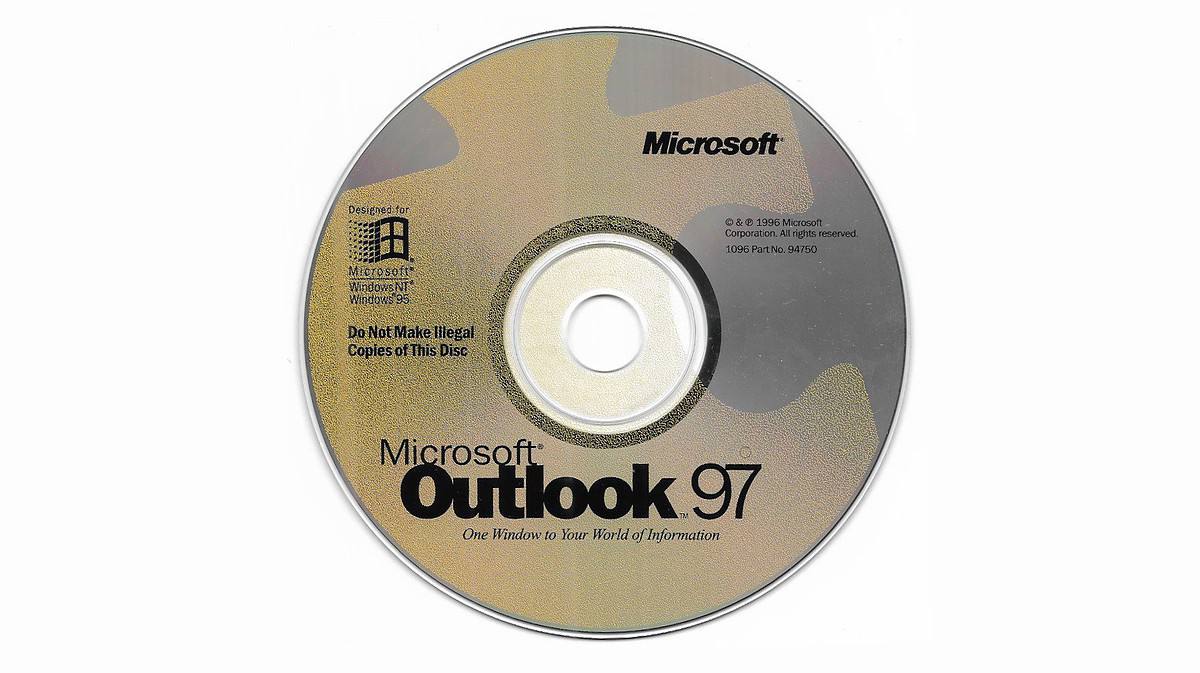 Some Outlook versions have already reached their end-of-life, which means Microsoft is no longer supporting them. Here's the Outlook versions list of end-of-life products.
Outlook 97
Outlook 98
Outlook 2000
Outlook 2002
Outlook 2003
Outlook 2011 for Mac
The following versions are going to lose support in the near future.
Outlook 2016/Outlook 2016 for Mac— Connectivity to Microsoft 365 ending October 10, 2023, full support ending October 14, 2025
Outlook 2019 — Connectivity to Microsoft 365 ending October 10, 2023
Outlook 2019 for Mac — Ending October 10, 2023
Outlook 2021/Outlook 2021 for Mac — Ending October 13, 2026
Older versions of Outlook may continue to work, but just won't get support and security updates from Microsoft and are thus not recommended for use.